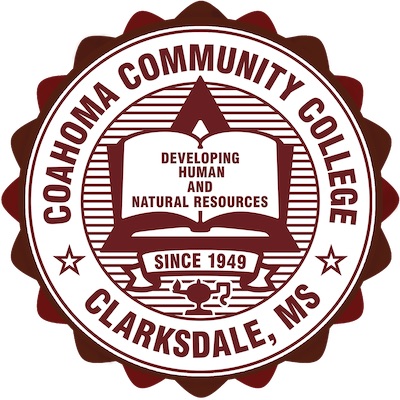 To our students, faculty, and employees:
Many parts across the world are experiencing an expanding outbreak of a respiratory illness caused by a novel coronavirus that was first detected in Wuhan City, Hubei Province, China.
This virus can spread from person-to-person, and the number of cases detected in the U.S. and many other countries is growing.
Administrators for Coahoma Community College and Coahoma Early College High School will do their part to keep our community safe and healthy.  We are carefully monitoring reliable information and developments, on a daily basis, from the Centers for Disease Control and Prevention (CDC), the Mississippi State Department of Health, the U.S. Department of Education, and other entities providing guidance to institutions of higher learning with regard to the spread of, and appropriate responses to, this disease.  When making decisions to protect your health, our administrators rely on facts, not fear or rumors.
Our custodial staff will continue to perform their hard work by maintaining planned cleaning schedules.  Additionally, we are working to purchase and provide wipes to clean shared computers in as many areas as possible, as well as provide accessible sanitizer in shared spaces.  We are also working to make disinfectant and sanitizing products available and directly accessible to students on campus and in our facilities.
At present, the immediate risk to the general public in Mississippi is considered to be low.  Currently, there are no plans to cancel or to impose any restrictions upon any activities or functions.  Students and employees in good health should continue to report to work and for classes in all locations.  All facilities in all locations are open.  All business operations are normal.  Any closures or restrictions upon attendance at College- and School-related activities and functions will be communicated to students and employees.  Administrators, faculty, and employees will explore the development of online course instruction should circumstances dictate that in the coming days or weeks.

Avoiding illness:  Remember that the best thing you can do for yourself is to thoroughly and frequently wash your hands with soap and water for 20 seconds (the water doesn't have to be hot); to cover your coughs and sneezes; to avoid touching your face (if you need to touch your face, you can first cover your hands with a tissue); to avoid close contact with those who are sick; to seek medical attention when you are sick, and to stay home if you become sick to protect others from illness.  If you haven't yet gotten a flu shot, it's not too late.
You may wear a face mask if you believe that you are especially vulnerable to illness, but please know that the CDC does not recommend the use of face masks for the general U.S. public to prevent the spread of coronavirus.  The indiscriminate use of face masks by the general public is interfering with the supply and availability of these masks to medical personnel.  Don't wear one unless you need to.
Travel precautions and restrictions:  Without prior notice, travelers could be quarantined or experience sudden and serious travel disruptions, and returning home from some destinations could be a challenge.  Currently, there are no limitations to domestic travel, but be aware of any areas of the U.S. that are more affected than others when making your travel plans.  As a precautionary measure, you should avoid close contact with friends or family members who have returned from traveling to areas of the U.S. that have been affected by the coronavirus.
College and High School administrators are aware of no planned official travel by faculty or employees to countries for which the CDC has issued a Level 2 or Level 3 Travel Warning related to coronavirus.  At this time, these countries include:  China, Iran, Italy, Japan, and South Korea.  Personal travel by College and High School students, faculty, and employees to these countries is strongly discouraged.  Any College or High School students, faculty, or employees who have traveled to any of these countries since Jan. 1, 2020, or who have plans to visit any of these countries, should report their travel to Michael Houston.  Administrators will continue to evaluate the risks of travel outside of Level 2 or Level 3 countries.
We will continue to share updates as they relate to coronavirus.  Thank you for doing your part to keep our communities, campus, and facilities safe and healthy.
Sincerely,

Valmadge T. Towner, P.h.D
5th President
Coahoma Community College