About the Speaker: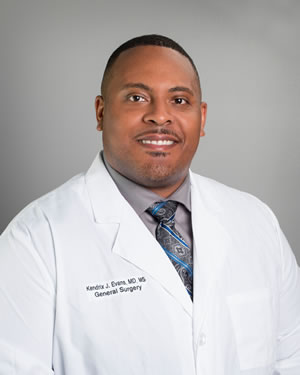 Dr. Kendrix J. Evans received his Doctor of Medicine from Morehouse School of Medicine, Atlanta, GA, a Residency in Surgery from the University of Utah Medical Center, Salt Lake City, Utah, and completed a fellowship in Cardiothoracic Surgery at the University of Mississippi Medical Center, Jackson, MS.
Dr. Evans believes the most important thing a physician can offer is honesty. He prides himself in being very open, honest, and straightforward with each of his patients. He also takes a minimalist approach in the way of narcotic prescriptions. He works diligently to offer pain control options without the burden of narcotic addiction. Evans also wants his patients to be a key and integral part in their own care.
Evans specializes in general surgery, offering services such as breast, abdominal, thyroid, hernia, colorectal procedures, and many advanced laparoscopic procedures. He is a member of the American College of Surgeons, the American Medical Association, Christian Medical and Dental Association and M.W. Prince Hall Grand Lodge of AL.
Dr. Evans is a native of Alabama. He enjoys martial arts, tennis, and college football.  In his leisure time, he enjoys singing, writing music and playing several instruments.