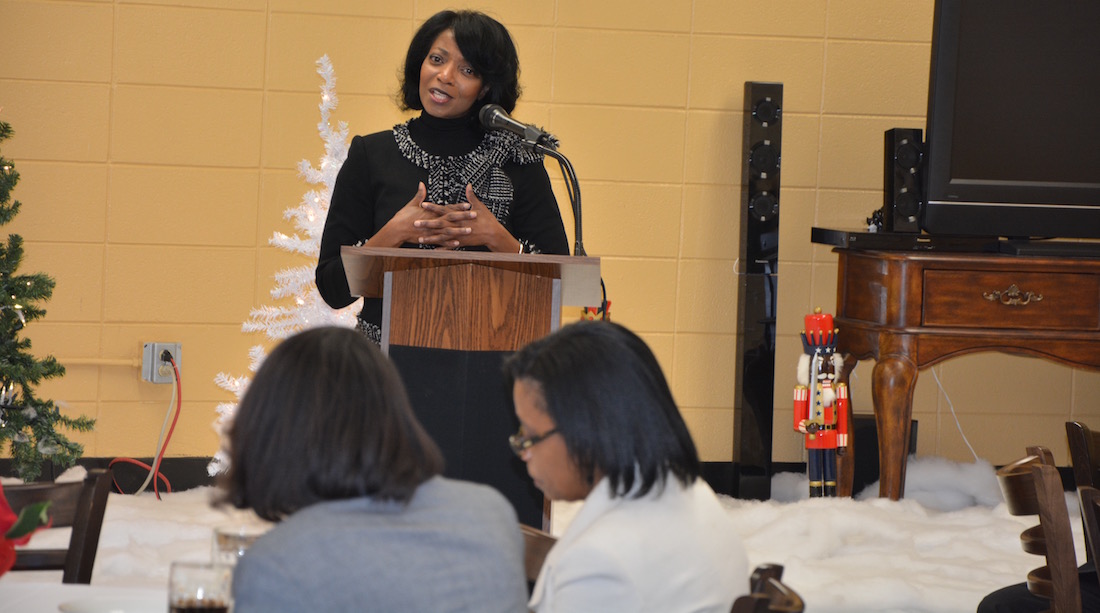 CLARKSDALE – The first African American woman, appointed by President Barack Obama, to serve as a United States District Court Judge in the State of Mississippi was on Coahoma Community College campus Wednesday afternoon.
After being unanimously confirmed by the United States Senate on Nov. 4, 2013 and sworn into office Dec. 2013, Judge Debra M. Brown presides in the Greenville Division, which includes Attala, Bolivar, Carroll, Coahoma, Grenada, Humphreys, Leflore, Montgomery, Sunflower and Washington counties.
Brown took a break from the bench to speak to members of the Coahoma County Bar Association during a meeting, hosted in The Gallery on CCC's campus. She was welcomed to campus by CCC President Dr. Valmadge Towner, Dean of Career and Technical Education Anne Shelton-Clark and Associate Dean of Career and Technical Education Lucy Chatman-Scott.
After enjoying lunch prepared by CCC's Culinary Arts Department, Brown engaged those in attendance sharing practice points and reviewing rules of civil procedure with area attorneys.
Self-described as a "big rules followers", Brown also used the opportunity re-iterate rules and regulations she noticed have been commonly overlooked during her term.
"I just wanted to focus on some of the little things that attorney's just don't tend to do," said Brown, who has more than sixteen years of experience practicing law with private firms.
A native of Yazoo City, MS, Brown holds a Bachelor of Architecture degree from Mississippi State University and a Juris Doctorate degree from the University of Mississippi School of Law. She practiced Architecture in Washington D.C. from 1987 to 1994.