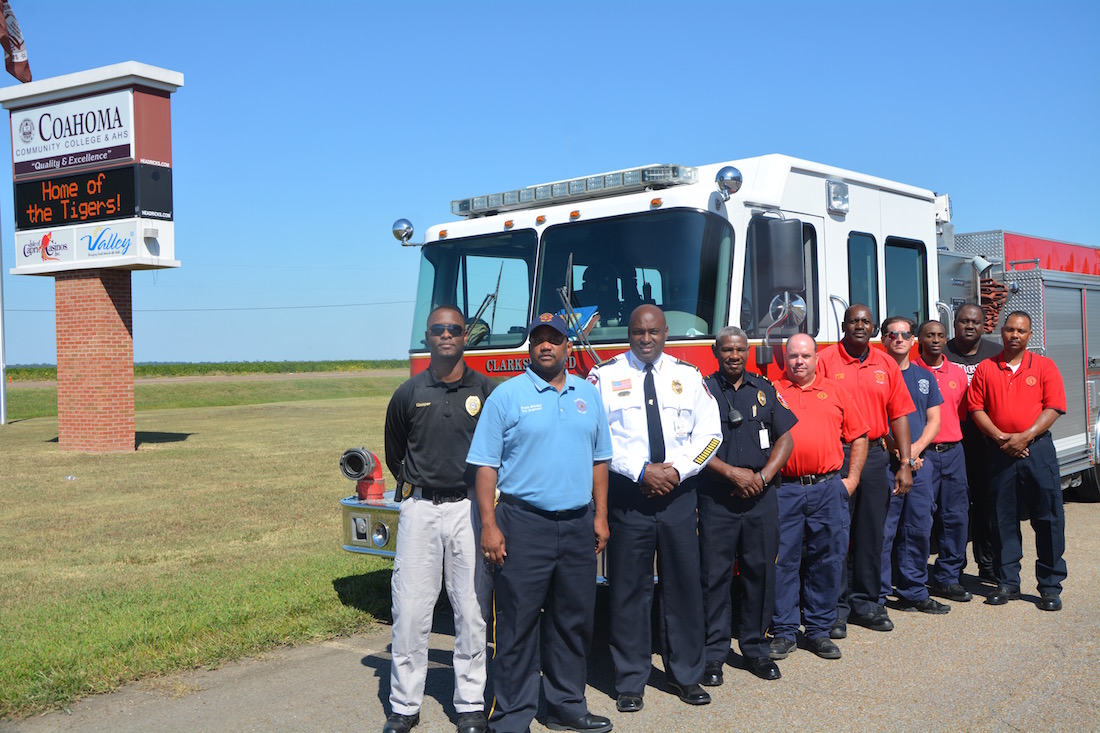 Pictured, from left, are CCC Officer Terry Glasper; Fire Inspector Frank Beasley; CCC Director of Campus Safety Leon Williams; CCC Captain George Brown; Assistant Fire Chief James Tomlinson; Captain Charles Lane; Firefighter John Clark; Firefighter Ricky Trotter; Firefighter Travis Haggan; and CCC Officer Fitzgerald Jones.
CLARKSDALE – Coahoma Community College's Department of Campus Safety has been teaming up with the Clarksdale Fire Department to ensure that CCC is prepared to respond in case of a fire.
Over the past several days, officers and firefighters from both agencies have been busy placing 110 new fire extinguishers throughout CCC's campus.
"We've had Fire Inspector Frank Beasley and his crews out here assisting us with strategically placing our new fire extinguishers across campus," said CCC Director of Campus Safety Leon Williams.
Williams said per recommendation, they have been installing the possibly life-saving devices 50 to 75 feet from exits so that they will be readily available to anyone in case of an emergency.
"We're very grateful to the Clarksdale Fire Department. They've offered us a tremendous amount training and additional knowledge regarding fire safety," said Williams. "That's our number one priority to make sure this campus is prepared."
In the near future, Williams said his department will be hosting fire drills to ensure everyone on campus, particular those students living in the residence halls, are up to speed.
"We want everyone to feel safe—especially our dormitory students in their home away from home," said Williams.