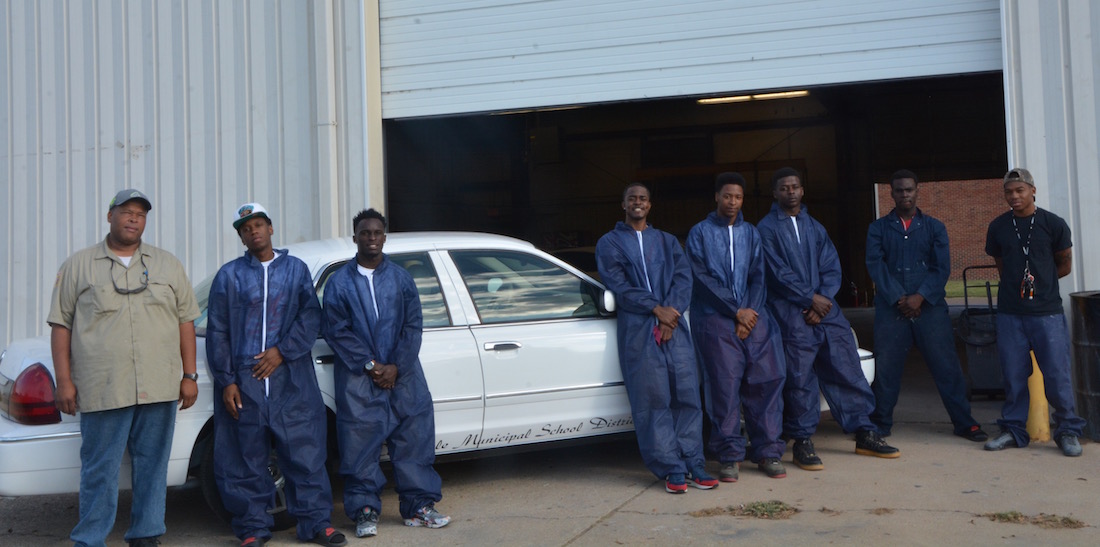 Pictured, from left, are Collision Repair Technology Instructor Joe Giles of Clarksdale, MS along with students Robert Crawford of Lula, MS; Edrishun Glenn of Meridian, MS; Trayvon Puschal of Clarksdale, MS; Brandon Sims of Clarksdale, MS; Darius Taylor of Rosedale, MS; Cartavius Duckworth of Friars Point, MS; and Trayzaron Johnson of Coahoma, MS.
CLARKSDALE – A used Clarkdale Municipal School District car looks good as new thanks to the elbow grease of one class in Coahoma Community College's Division of Career and Technical Education.
Student in CCC's Collision Repair Technology program recently completed their first big project of the semester after being entrusted by Clarksdale Municipal School District Superintendent Dennis Dupree to give one of the district's vehicles a facelift.
"The car had paint chipping off of it and it had several rust spots on the exterior," said Instructor Joe Giles. "It was excellent opportunity for our students to gain some hands-on experience."
According to Giles, the students worked over the next several days to bring the car back to life with freshmen students sanding the vehicle down, while the sophomores completed the paint job.
"It felt really good to get that experience with my first project, and I really learned a lot," said freshman Darius Taylor of Rosedale, MS.
"It was great knowing that there are people in the community who trust us to get the job done," said sophomore Trayzaron Johnson of Coahoma, MS. "…the best part is seeing the customer smile in the end because they're satisfied with how their vehicle turned out."
Giles said he hopes this project is one of many as the programs works to continue building a stronger relationship with the community.
"I'm really proud of the students," Giles boasted. "This shows that the community is establishing trust with out students to do work instead of going to major industries. It's great hands-on experience for our students, particularly our freshman."