CLARKSDALE – Use your old jeans to support your stance against domestic and sexual violence in your community!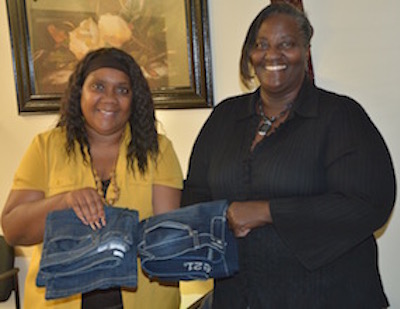 In honor of National Domestic Violence Awareness Month, Coahoma Community College's Division of Enrollment and Student Services Counseling Center needs your help preparing for its 2nd Annual "Jeans 4 Justice" project, scheduled from 10 a.m. until noon Monday, Oct. 26 outside of CCC's Frank Gambrell Multi-Complex Center.
Inspired by a national social change organization designed to raise awareness and provide encouragement for women and men who have been affected by domestic and sexual violence,  "Jeans 4 Justice" offers students and community members the opportunity to paint a message expressing their feelings about domestic and sexual violence—whether it happened to them, a family member, or a friend—on a pair of jeans. The jeans will then be displayed on a clothesline fixed in the center of CCC's campus.
"This is a visual way to show support to victims and let them know that they are not alone," said CCC Coordinator of Counseling Services Renee' Sanford, one of the event's organizers. "It's also an excellent tool to encourage our students to become advocates for and speak out against issues like sexual and domestic violence in our community."
In preparation for the project, the Counseling Center will be accepting jean donations through Oct. 16. Jeans of all styles and any size—from toddler to adults— are welcomed in hopes that this year's event reaches even more students and community members.
Donations can be dropped off at the Student Service's Counseling Center, located on the first floor of the Zee A. Barron Student Union.
To schedule a pickup or for questions or more information contact Sanford at (662) 621-4858 or CCC's Dormitory Manager Dian Thomas at (662) 621-4045.