Raleigh, NC. – Coahoma Community College is among a group of Historically Black Colleges and Universities across the nation committed to kicking cigarettes and their butts off their campuses.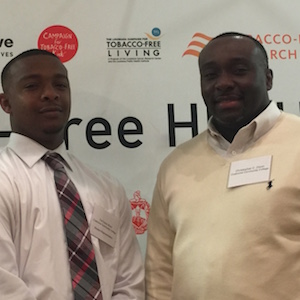 Thirty-three HBCUs attended the Tobacco-Free HBCU Campus Initiative, a conference hosted at Shaw University in Raleigh, NC. Oct. 5-6, that featured workshops on the harmful effects of tobacco, particularly among African Americans, and potential ways to develop public education campaigns that inspire students and faculty to establish tobacco-free policies at their institutions.

The HBCUs were all awarded $5,000 grants to help implement a comprehensive non-smoking policy on their respective campuses. Christopher Dixon and CCC Student Government Association (SGA) Chief of Staff Tre'Voris Word represented CCC during the two-day conference, sponsored by The Truth initiative.
"The conference was very insightful for me," said Word, a sophomore pre-nursing major from Southaven, MS. "We learned about different methods to promote being smoke-free on campus and how to educate everyone on what smoking does to you over time and how it affects your body."
Word said he's looking forward to implementing the grant on campus.
"It was a networking experience for me and I enjoyed talking with other HBCUs in the state about partnering with them … This is a great step for CCC," he said.
The Truth Initiative is a first-of-its-kind effort to engage HBCUs throughout the U.S. to address the important public health issue of tobacco. The Tobacco Free HBCU Campus Initiative is a multi-organizational collaborative project that will support HBCUs in developing and implementing a 100 percent comprehensive tobacco-free campus policy, led by Former U.S. Surgeon General Dr. Regina Benjamin.
"For decades, the tobacco industry had targeted minority communities, particularly African Americans, with intense advertising and promotional efforts," said Benjamin in a statement. "As a result of this investment, African Americans suffer the greatest burden of tobacco-related mortality of any ethnic or racial group in the United States."
The initiative's goal is to bring together invited HBCUs and provide them with funding, technical assistance and support as schools go tobacco-free.