CLARKSDALE – The man known as the "Genius Behind Fiber Optics in Innovation" will be making his way to the campus of Coahoma Community College this week.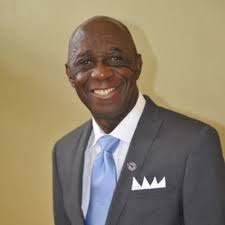 Dr. Thomas Mensah, an award-winning chemical engineer and inventor, will take a tour of the Mississippi Delta, including stops at CCC, Wednesday, Oct. 7, through Friday, Oct. 9.
The visit will include "An Evening with Dr. Thomas Mensah" VIP Reception scheduled for 2 p.m. Wednesday at CCC Vivian W. Presley Administration Building.
Mensah, who is passionate about green energy and sustainable developments, will then speak with the Delta Schools of Education involved in STEM (Science, Technology, Engineering and Math) education along with students from area high schools at 10 a.m. Friday, Oct. 9 in the Pinnacle. The discussions will include Fiber Optics Innovation/Nanotechnology for the 21st Century, Broadband Communication and drone usage in agriculture.
In Nov. 2014, Mensah was inducted as a Fellow of the United States National Academy of Inventors at the California Institute of Technology, Pasadena, for his work performed on Advanced Nanocomposites at Florida State University.
He also has several patents that have been awarded by the US Patent and Trademark Office, including seven received within a six-year time frame. Mensah is one of three African American men chosen out of 167 inventors to be honored by National Academy of Inventors (NAI).
According to Mensah, he chose the Mississippi Delta as the location for his first Mississippi tour because of its huge leadership in agriculture, its rich cultural history, its prominent schools of higher education, and the Delta's interest in Fiber Optics and Broadband Technology.
"I am greatly humbled by my NAI Fellowship and recent induction and hope that it serves as an inspiration to young people worldwide, including students in the Delta Region and Mississippi, that they can attain whatever they set themselves out to do provided they stay focused and dedicated in hard work," he said in a statement.  
This event was made possible after the Mississippi Delta Council (MDC) was selected to be the Mississippi host for Mensah and is sponsored by MDC in partnership with CCC and Delta State University.