CLARKSDALE —Coahoma Community College wrapped up this semester's iRead Book Club meetings with a poster board contest, lunch and discussion inspired by Charles Dicken's "A Christmas Story" Thursday evening.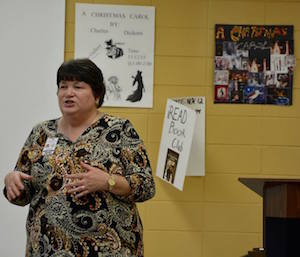 The poster contest, designed to increase the visibility of the book club and get students excited about the final book selection, asked students to illustrate their interpretation of the 1843 British classic. The posters were judged based on several criteria's, including the quality of artwork, graphics and color.
The first place $25 cash prize was awarded to student John Fisher, while students Joseph Fisher and Chrishara Richardson won the $15 second place and $10 third place prizes respectively.
"We really appreciate their participation in this contest," said CCC English Instructor Glynda Duncan, who helped organized the event. "We wanted to encourage people to come to the book club and they've done a great job answering the call."
Club members then enjoyed an array of Christmas favorites such as roasted duck and plum cobbler while Duncan led the discussion on the Christmas classic.
iRead, an acronym for Inspiring Reader Exploration Across the Delta, is part of CCC's required Quality Enhancement Plan, which included the introduction of a book club on CCC's campus.
The club will pick back up next semester in February with the novel "The Black Russian" by Vladimir Alexandrov.