CLARKSDALE – Regardless of where her professional career has taken her, Cynthia Williams-Roberson's first love has always been teaching.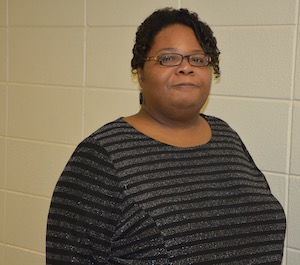 "I have always known I would teach," said Roberson, who has taught in both the high school and community college level for more than a decade. "As the oldest child of six, I was the designated homework helper, and even today, I am still the designated homework helper for most of my nieces and nephews who live nearby … I believe I was born to encourage, and teaching provides the opportunity to do so. "
Because of her evident passion for the profession, Roberson has been selected as CCC's 2015 Mississippi Humanities Teacher Award.
Each year the Mississippi Humanities Council recognizes October's designation as Arts and Humanities Month by designating Humanities Teacher Awards to one faculty member at each college and university in the state. Roberson was selected as this year's honoree from CCC based on the recommendation of President Dr. Valmadge Towner and Dean of Academic Affairs Rolonda Brown.
"Mrs. Roberson has been an exemplary life-long learner as well as an exceptionally gifted educator," said Towner. "She has excelled in whatever capacity that she has served. I am most appreciative as to how she serves for the college in an unassuming yet profound manner. We are elated to have her represent CCC."
A program held in Roberson's honor is slated for 1:30 p.m. Thursday, Nov. 19, in the Gallery. During that time, Roberson will make a professional presentation.
 The title also carries a cash award as well as a complimentary ticket to the Mississippi Humanities Council Awards Banquet. There, Roberson will join other selected recipients from colleges and universities across the state for special recognition.
A native of Marks, MS. Roberson earned an Associate of Arts Degree from Coahoma Community College in 1998 and furthered her education at Delta State University where she earned both a bachelor's and master's degree in English and an Educational Specialist in Educational Leadership.
Roberson began her teaching career at West Tallahatchie High School, where she taught ninth and tenth grade English and Oral Communication for nine years. She was twice selected as Teacher of the Year.
Roberson used the classroom not only to teach academics, but to also impart life wisdom as well.
"I love to teach literature and composition with the intent of helping students discover their passion and not be afraid to risk sharing that passion because of what others think or believe," said Roberson
Take her favorite quote by author Virginia Woolf for an example—"Once conform, once do what other people do because they do it, and a lethargy steals over all the finer nerves and faculties of the soul."
"I believe that so many people cover up their passion because it is not what someone thought they should be doing or someone forced their dreams upon them," she said. "I have learned that one must be willing to accept being different and use that difference to find his/her place in this world."
Roberson brought her passion for teaching to CCC as an adjunct English Instructor in the Fall of 2003. Since that time, she has instructed English Composition I and II and World Literature I and II at three evening sites and online.
In July 2009, Roberson joined the college full-time as the Director of Educational Outreach, and in July 2014, she became Assistant Director of Institutional Effectiveness.
Although she may no longer be in the classroom full-time, Roberson's passion for the students remains.
"Teaching is refreshing because it's a way of imparting and obtaining knowledge and skills," she said. "Although my full time position at CCC is not teaching, I frequently awake from dreams of being in a high school setting and showing some young person the path to success."