CLARKSDALE – Hypothetically, would you rather accept a one-time million-dollar lump sum or one penny that doubled in value everyday for thirty days?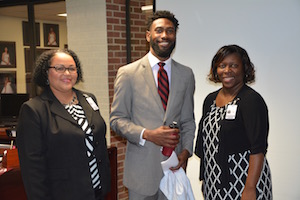 Taurean Morton, a financial analyst for Primerica Financial Services—the largest Financial Services Marketing Organization in North America— presented this scenario to Coahoma Community College students, faculty and staff as well as Delta Workforce Development Area (DWDA) participants during Thursday's "How Money Works" Economic Summit.
The event was hosted as part of CCC Division of Enrollment and Student Services' Career Services and Placement "Coffee with Entrepreneurs" series, designed to give CCC students the opportunity to connect with other students and community members.
Morton told the large majority of audience members who opted for the million dollars versus the second option, which has value of $5,368,709, that they're not alone; 85 percent of Americans think the same way.
"Someone has been thinking differently and it hasn't been us. And we wonder why the rich stay rich, and the poor remain poor." said Morton.  "I'm here to share with you this information that the elite and institutions like the bank have been using for years. Never make a hasty decision with your money…You have to understand how money works."
Aside from this short lesson in compound interest, Morton also taught the audience the importance of understanding interest rates, saving avenues for retirement and saving opportunities for college education.
 "I'm trying to bring Wall Street to Main Street. …This information is there for the rich but what about us who can't afford financial advisors?" said Morton.  "Take control of your money, take control of your life and be free because if you're not free financially, you're not really free."
If you are an entrepreneur interested in participating, or for more information, contact CCC Coordinator of Career Services Trina Cox at (662) 621-4674 or tcox@coahomacc.edu.