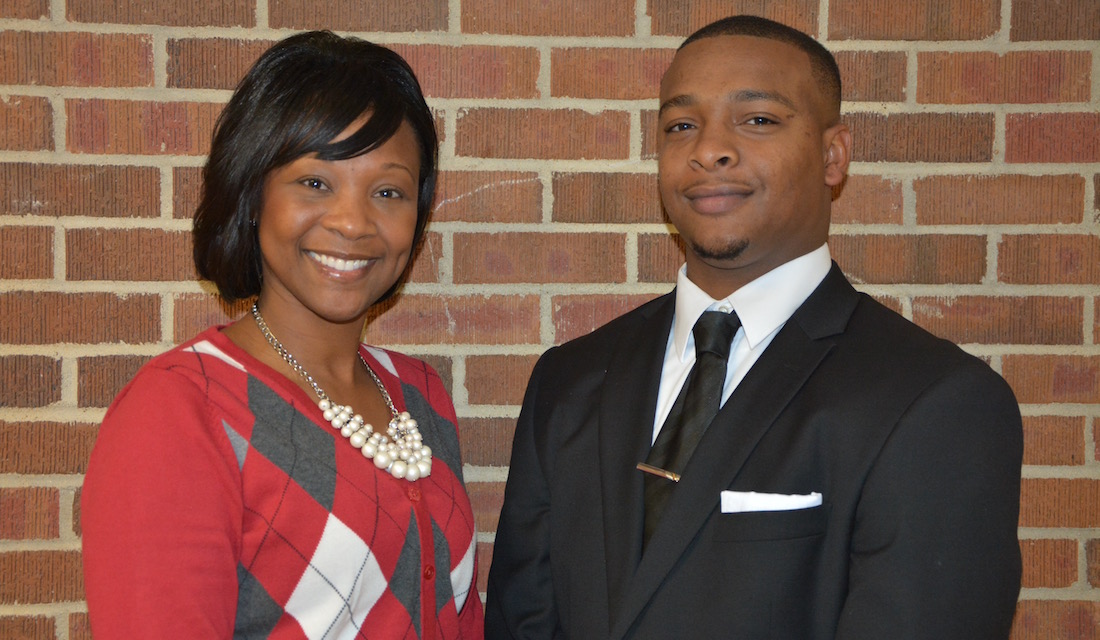 Pictured, from left, are CCC 2015-2016 HEADWAE honorees CCC Chemistry Instructor Patrina Thompson and Sophomore Pre-Nursing major Tre'Voris Word. 

CLARKSDALE – Coahoma Community College is proud to announce its 2015 "Higher Education Appreciation Day-Working for Academic Excellence" (HEADWAE) honorees.
Sophomore Pre-Nursing major Tre'Voris Word of Frairs Point, MS was selected as the HEADWAE student, and CCC Chemistry Instructor Patrina Thompson was selected as this year's HEADWAE faculty honoree.
HEADWAE was established by Mississippi Legislative Resolution to annually honor the academically talented students and faculty members of Mississippi's higher education institutions who have made outstanding contributions in promoting academic excellence. Word and Thompson will be honored during a special Appreciation Day in February.
Word is a graduate of Southaven High School. He serves as the Student Government Association (SGA) Chief of Staff, Phi Theta Kappa Honor Society Vice President, a Resident Assistant (RA) and as the first alternate to Mr. CCC. After CCC, Word plans to attend Jackson State University and hopes to one day become a medical doctor.
"I think Trevoris Word is an excellent choice for this award," CCC Dean of Academic Affairs Rolonda Brown. "He personifies what is possible for the CCC student who is willing to work hard and maintain a positive attitude."
Thompson joined CCC's faculty in August 2013. She received a bachelor's degree in Chemistry from Alcorn State University and a master's and doctorate degree in Chemistry from Jackson State University. Thompson is a licensed teacher for the State of Mississippi.
"Dr. Thompson has always been known as the instructor who is willing to go the extra mile for students," said Brown. "She volunteers with ACT prep on Saturday's and facilitates after class tutoring for all of her students … I am not at all surprised that she is one of the instructors who has had a major impact on Trevoris Word."
The goal of Appreciation Day is to encourage excellence among those involved in higher education as a way to further leadership, increase knowledge across the broad spectrum of education and promote good citizens capable of thriving in today's society who are prepared to meet future challenges.
During Appreciation Day, one student and faculty honoree from 34 Mississippi public and private universities and colleges will receive special recognition from the Mississippi Legislature as a way of saying thank you to the students and faculty for their commitment to the future of Mississippi.
Additionally, the generosity of the corporate sponsors provides for each honoree to be accompanied to the luncheon by two guests.
The 2015-2016 Higher Education Appreciation Day will take place on February 2, 2016 at the Marriott Hotel in Jackson.