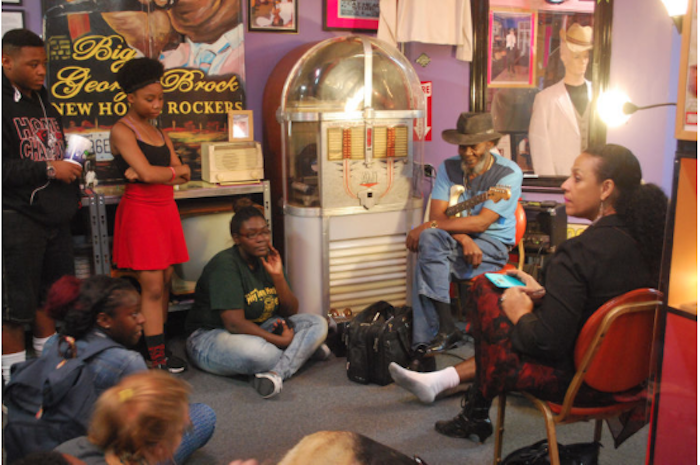 Bill "Howl-N-Madd" Perry talks to and educate students from Coahoma Community College as part of the college's ongoing partnership with the Rock & Blues Museum. Photos by Rebekah Yearout/Clarksdale Press Register. 
Coahoma Community College and the Rock & Blues Museum are partnering together for a third semester to help inspire art students with a program that will culminate with an exhibit and awards for Best in Show.
 Museum board member Cynthia Huddock said they have a slightly different format for the partnership this year, after students met with Bill "Howl-n-Madd" Perry at the museum on last Tuesday.
 "This year, we're doing one visit to the museum with one artist and then, we are trying to get as many of the museum's board members to come and our second visit will be to the college during either one of their graphic art or fine arts classes to actually see the students working, and what they're doing how they're putting things together," Huddock said, adding that last year, the students came to the museum three times a semester and met a different musician each time.
She said by going to the college, they were hoping for a larger crowd, since transportation is often a problem for students.
 "We don't think they need three visits to the museum, we offer them free admission; come back any time you want, so that's always an option," Huddock said. "We're also doing just one artist, and we'll have Howl-N-Madd come back and play at the exhibit on Dec. 2, so he also can see how the creative process started and what came out of that, and he can see the artwork he influenced."
This year, the museum will award a Best in Show in Fine Arts and a Best in Show in Graphic arts, with two runners-up. The Best in Show winners will each get $200 and the runners-up will win $100. Huddock said last year, the museum then awarded a first, second and third place award at an exhibit held at the museum.
On Dec. 2, the college will host an art exhibit, which Huddock also said would hopefully encourage more students to come as well as members of the community.
"It saves a little bit on them bringing everything here," she said. "We're hoping for a bigger turnout of the students and of the campus students. Then we're going to do it from 3 p.m. to 7 p.m. at the college so we can pick up the students during their time on campus and then from 5 p.m. to 7 p.m. hoping we can pull in some of the local businesses, the after-work crowd."
Also, she said, by breaking up the awards into two categories, she said they would be able to reward those students whose work fit into both categories of fine arts and graphic arts.
"We're looking to give them a little bit more incentive, we'll keep the award what I think is considerable in both categories," Huddock said.
The art students whose pieces won at the exhibit had T-shirts depicting their work, and the museum is still selling those. Huddock said they use the proceeds from the sale of the shirts to help keep the program going, and they plan to use the winning pieces from this semester's program for some type of commercial
"Depending on what's produced, like we did last year with the two Best of Show winners, we put their work on T-shirts," she said. One piece was of John Lee Hooker and another was a montage-style type of musical picture with a guitar in the center. Huddock said the art produced isn't always necessarily of the artists they met, but is inspired by them and their stories, and she said having Perry play at the exhibit would let him see how the creative process came out.
"The students can have an idea of what they want to do, maybe it's not centered around him, but that's always an option, there's always been an art student or two who have done something based on the artist," she said. "So we thought it would be a nice little circle, to have him come to see the end result."
Music, she said, is a huge art in the Clarksdale community, but she said her vision of this project was to encourage visual artists to see how their work can be used commercially as well.
"When you look at music posters, concert tickets, album covers, CDs, the whole business around that music, there is a lot of art, fine art converted to graphic art or commercial art. That is what we hope we're inspiring them to do," Huddock said. "So if you're not musically talented, but boy, can you draw, there is a future for you, it is also commercially advantageous."
*This article was originally printed in the Sept. 23rd edition of the Clarksdale Press Register. Rebekah Yearout is the managing editor of the Clarksdale Press Register and can be reached at (662) 627-2201 or news@pressregister.com .