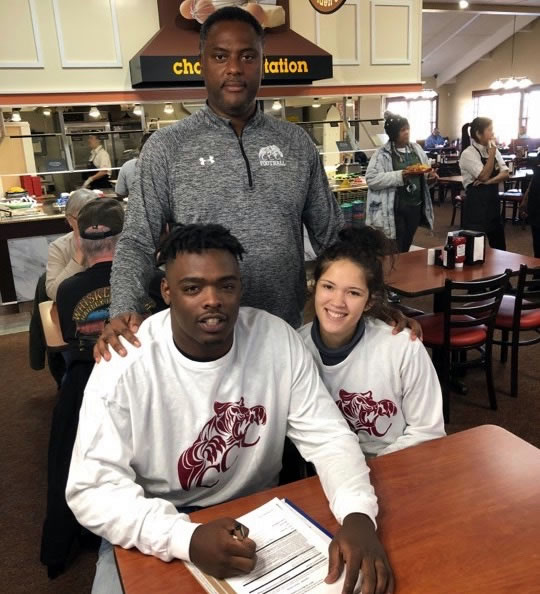 CLARKSDALE– Coahoma Football has been on the recruiting warpath to sign the best players in America. Head Coach Steven Miller has landed probably his biggest recruit in his coaching career. Lagaryonn Carson is a four star recruit from Liberty Eylau High School (Texarkana, TX).
Carson is a 6'5 and 260 pound defensive end. He was the No. 3 recruit in the state of Texas. In 2014, Carson had 101 total tackles, including 32 tackles for loss, 18 sacks, five forced fumbles and one pass breakup.
In 2015, Carson had an outstanding season with 170 tackles, including 40 tackles for loss, 20 sacks, six forced fumbles and two pass breakups.
Carson was highly recruited by Alabama, Arkansas, Baylor, Oklahoma, Texas A&M and etc. He verbally committed to the University of Texas in October 2015.
In December 2016, Carson decided to decommit from Texas. Carson had to deal with off the field issues that was beyond his control.
Carson wanted an opportunity to better his life, get an education and play college football. Coach Miller reached out to Carson and assured him that he will get a good education and be ready for the next level in life.
"We're glad to have him to develop his skills and education," said Miller. "Our goal is to get the best player available. Get the players that want to be here at Coahoma and give everything they got."
Defensive Line/Head Strength and Conditioning Coach Mike Welch played a big part in getting Carson signed to Coahoma. During the recruiting process, Welch and Carson formed a special bond.
"I'm very positive that Gary will seize the most of this opportunity to reach his dreams and goals. He could be a success story to those that follow behind him," said Welch. "He brings tremendous versatility to our defense and a tough hard nose swagger."
Coahoma Community College would like to welcome Lagaryonn Carson to our wonderful family in Clarksdale, MS.