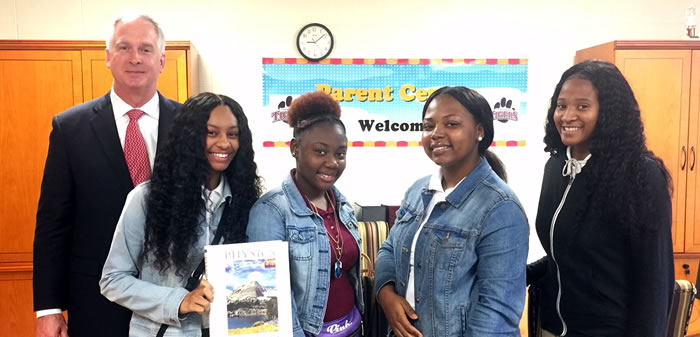 From left to right; Matthew Dolan (CEO of GTP); Ariel Presley; Da'Nylia Burnett; Aquaysheonna White; D'Ashanti Maddox

Four students from Coahoma Early College High School achieved outstanding assessment results after participating in a two-week AP Physics preparatory summer program at Mississippi State University in July. CECHS students De'Nylia Burnett, D'Ashanti Maddox, Ariel Presley, and Aquaysheonna White, as well as students from six other Mississippi school districts, proved to have grasped much of the material.
MSU has teamed up with the Global Teaching Project to continue a summer program that accepted a hand-selected amount of 33 students from underserved schools that have exuded the intellect necessary to succeed in the advanced placement program. Students from schools in Aberdeen, Booneville, Quitman County, Scott County, Holmes County, and Lauderdale County also participated.
The students' average pretest score before embarking on the math and science curriculum was 20 of a perfect 100. Because it is very challenging and nearly impossible for students in a typical high school Physics course to gain a complete understanding of all concepts in the subject, the preparatory summer program participants are commended for showing vast improvement in their post-assessment results, which averaged out to a score of 43.3.
This achievement makes Cloretha Jamison, principal of Coahoma Early College High School, a proud leader. She is confident that her students will be rewarded with a significant amount of scientific knowledge throughout their exploration of the subject.
"Students will have more exposure to more lesson concepts," Jamison said. "They will be able to ask more questions concerning Physics."
CEO of the Global Teaching Project Matthew Dolan is pleased that the Coahoma County students were part of the program. He holds the outlook that critical thinking in subjects like Physics leads to success in all branches of academia.
"All of the students with whom we work at Coahoma ECHS are very bright and capable of excelling academically at the post-secondary level," Dolan said.
"However, we do not contemplate any specific course of study or career path for them. Instead, we seek to help provide the substantive foundation and study skills needed to permit them to make the full use of their innate talents in pursuing whatever path they choose."
The Force Concept Inventory was the assessment used to measure how well students understood key theories in Newtonian Physics. Two high school science teachers, who are also products of Mississippi State, were oversight for the program participants.
To further educate CECHS students in Physics, the Global Teaching Project will pair with the high school a college tutor from a top-ranked, high-performing institution such as Yale University. The preparatory summer program serves as a way to test whether students would be able to accurately comprehend the concepts.