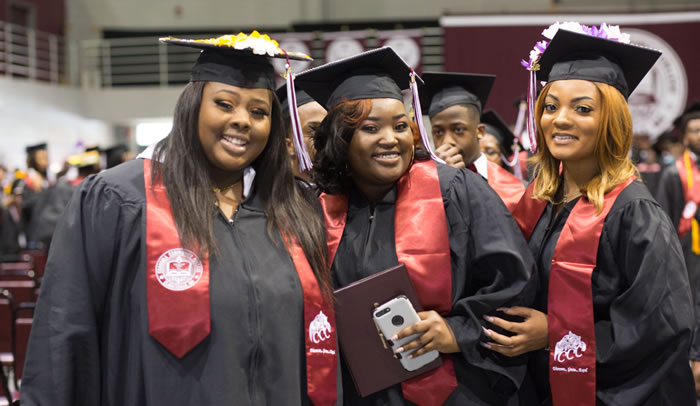 In a recent report by StudentLoanHero.com, Coahoma Community College has been named as the most affordable HBCU in the Nation. The company examined tuition and fee data from the 2017-18 school year in order to rank the most affordable public and private historically black colleges and universities in the United States. Today, there are over 100 HBCUs across the U.S. granting degrees to students of all racial and ethnic backgrounds.
Coahoma Community College President Dr. Valmadge T. Towner is pleased with these findings and hopes the results are continued growth.
"Coahoma has been deliberate across the years about having little to zero indebtedness as a college through its ability to keep the tuition, and all student cost relatively nominal," said Towner. "We're able to achieve this because of the deliberate effort to keep the indebtedness down."
Coahoma Community College offers its students more than 55 university parallel degree programs, eight Health Science programs, and 15 Career and Technical Education programs.  The College offers classes online, in the classroom and at extension sites within its five-county service area of Bolivar, Coahoma, Tallahatchie, Tunica, and Quitman counties.
"We're also privileged to be a part of what we believe is the best community college system in the nation, and that's the MACJC," Towner added. "Being a part of the MACJC allows us to have a sound financial foundation. So, that's probably one of the most critical components. This affords our students the privilege to have an affordable education at our school."
Coahoma offers a nurturing environment for learning on one of the safest college campuses in the state of Mississippi, as reported by the State Department of Education. CCC has a wide array of activities that allow its students to develop socially and options for leadership growth and community involvement outside of the classroom. Many of these aspects are supported through state funds, but also through charitable giving from individuals and corporate sponsors.
"We also do a superb job in securing external funds through our partners, and those funds are made available to assist students financially. So, our partners allow us to help students," Towner added. Also, we have a lot of moving parts. Our board of trustees, our staff all are very sensitive to ensuring that our students are not financially burdened. We're mindful whenever we are about to raise tuition, as to how much, and how frequent. We just try to be good stewards of our funds, so this is an essential component as well."
Beyond Coahoma's affordability for students, Towner sees the enriching and high-performing academic and vocational offerings as the true star of Coahoma's ongoing achievements.
"We offer a good education, actually for the cost. Our career-tech or CTE offers exceptional instruction in a diverse range of trades," said Towner. "We have highly-ranked health sciences programs. So not only are we affordable, but we're also pretty good."
For more information about educational opportunities at Coahoma, contact the Office of Admissions at 662.621.4696.
To view the ranking, visit: https://studentloanhero.com/featured/study-most-affordable-public-private-hbcus/