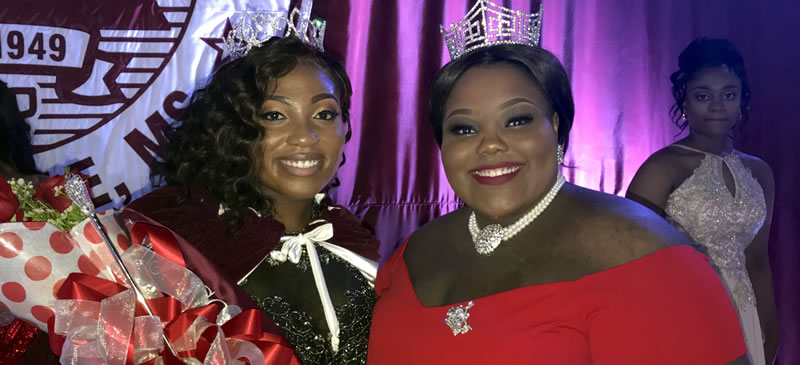 Caption: from left to right: Miss CCC 2018-19 winner, J'Terrica Trotter poses with current Miss CCC Tia Davis.
CLARKSDALE – The atmosphere in the Pinnacle was one of pageantry, excitement, and pride as hopeful candidates, their entourages, and CCC family and friends were witness to the 2018 Miss Coahoma Community College Pageant.
The purpose of the event was to select a queen for the campus' royal court for the upcoming school year.  Miss Coahoma Community College is a coveted title for a female student looking to represent the college as a student leader through scholarship and a community platform.  She also serves as an officer on the Student Government Association.
LaShasa Griffin, assistant director of Enrollment and Student Services, sees the pageant and opportunity as an enriching opportunity and experience for all.
­"Miss Coahoma Community College is the face of the young ladies at our institution.  She is well spoken, concerned with issues of our community, and presents a platform dedicated to making a difference in the lives of the persons she comes in contact with," said Griffin.  "Miss Coahoma serves as a mentor for area young ladies, and she becomes a role model to all."
Contestants competed in categories including an in-person interview, lifestyle and fitness in swimsuits, talent, evening wear, and on-stage question-phases of competition. All the contestants did a phenomenal job, but only one could be crowned.
J'Terrica Trotter of Cleveland, MS won the title of Miss CCC and will represent Coahoma Community College in the upcoming school year.
Trotter is the youngest of seven children and is a member of St. Peter's Rock Missionary Baptist Church where she serves as a member of the mass and youth choirs and praise team. Her hobbies include dancing, singing, shopping, and spending time with family.
Before coming to Coahoma, she attended East Side High School where she served as Miss East Side High School 2016-2017, Golden Doll co-captain, was a member of the Lady Trojan volleyball and softball teams.
J'Terrica is a pre-nursing major. Upon graduating from CCC she plans to continue her education at Alcorn State University.
Trotter is excited about this new opportunity and looks forward to representing Coahoma Community College.
"It is an honor to be named Miss Coahoma Community College. I'm ready to work with the SGA," said Trotter. "I want to interact with not only the CCC community but the community at large. I want to be able to give back and make a difference."
The official coronation will take place in April, and a date will be announced soon. In addition to the crowning of Mr. & Miss CCC 2018-19, the evening will also give the reigning royal court the opportunity to give a farewell.
For more information about CCC student life contact, LaShasa S. Griffin, assistant director of Enrollment and Student Services at 662-621-4146 or lsgriffin@coahomacc.edu.