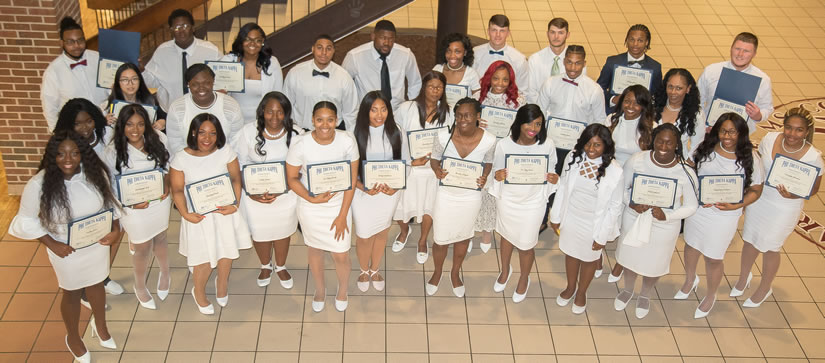 Recently, Coahoma Community College's chapter of Phi Theta Kappa Honors Society (Alpha Omicron Pi) inducted nearly 30 new members.
With 1,350 chapters at two-year colleges across the world, Phi Theta Kappa is the largest honor society in higher education. Members enjoy many exclusive benefits and opportunities for scholarship. The organization not only recognizes and encourages scholarly endeavors but also provides opportunities for leadership development, networking, and community service.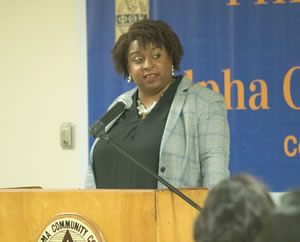 Dr. Chequitia Dixon, director of Coahoma's Practical Nursing program, served as the event's keynote speaker.
Dixon is a native of Clarksdale, Miss and a product of the Clarksdale Municipal School District.  She received a Bachelor of Science degree in Biology from Rust College.  Dr. Dixon received her Associate of Science degree from Phillips Community College, a Bachelor of Science degree in Nursing from Delta State University, a Master of Science in Nursing Education from William Carey University, and a Doctorate of Philosophy in Nursing Education and Administration from William Carey University. 
Dixon stressed the importance of self-awareness, tenacity, and persistence to the new inductees and explained that those principles are the keys to a happy and fulfilling career journey.
"I will not tell you that the journey ahead will be easy. I could paint a beautiful colorful picture of the glamour and allure that comes with elevation… such as social status, a large circle of friends, a fabulous career, etc. but I would be remise if I did not tell you about the obstacles you will face along the way. I want to give you advice or guidance on how to navigate the meandering roads ahead," said Dixon.
Membership in Phi Theta Kappa Honor Society guarantees its members access to benefits that will recognize their outstanding academic accomplishments and provide them with the competitive edge that helps ensure future success.
Dixon also challenged the young scholars to always stay grounded, no matter how high they ascend.
"Another very important tool you will need on your journey is humility.  Each of you will have what I'd like to call mountain top experiences where you will excel and accomplish great things.  Confidence is often the result of your achievements and rightly fully so you should develop confidence and feel good about yourself," said Dixon. "However, don't forget where you've come from and those who have helped you along the way. Be careful not to burn important bridges that you may need to cross again in the future."
On average, to be eligible for the society a student must have completed at least 12 hours of associate degree coursework with a cumulative 3.5 GPA. Phi Theta Kappa's Constitution sets minimum standards for membership and gives local chapters the ability to raise these standards.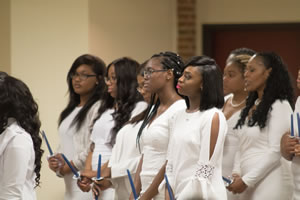 Dr. Rolanda Brown, dean of Academic Affairs, was excited to witness this group reach this achievement and sees these students among the many shining stars of Coahoma.
"Phi Theta Kappa is one of the most distinguished honor societies on college campuses. Our Coahoma students, who have worked hard enough to achieve this honor are without a doubt among the best and the brightest," said Brown. "We are proud of their accomplishments and have the highest hope for their futures."
The mission of Phi Theta Kappa is to recognize academic achievement of college students and to provide opportunities for them to grow as scholars and leaders.
For more information about CCC's chapter of Phi Theta Kappa contact, Patricia Furdge, chair of the Department of Science and Math at (662) 621-4282 or pfurdge@coahomacc.edu.