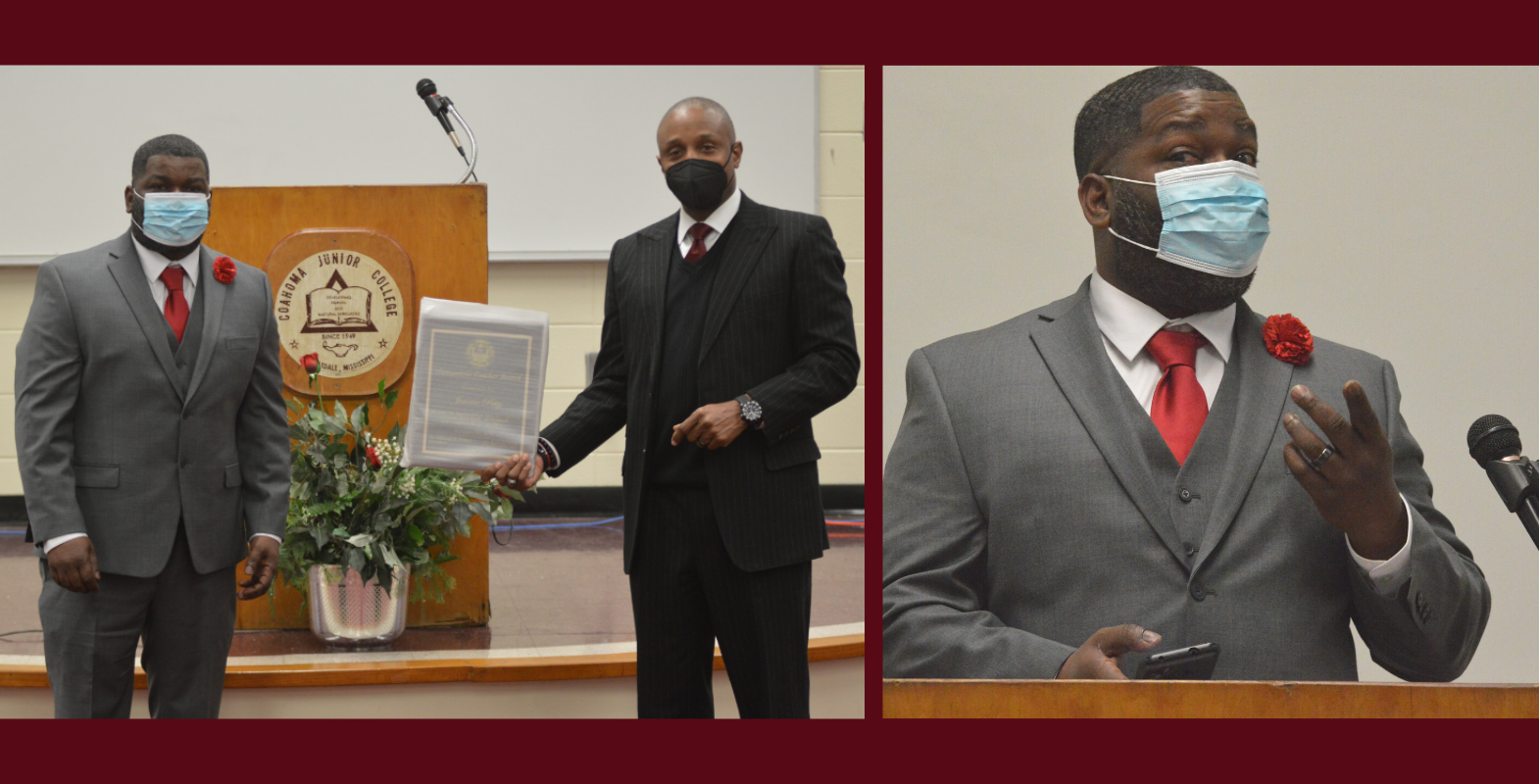 In a small, socially distanced gathering, adjunct Public Speaking instructor Jerome Petty yielded all ears in the Whiteside Hall lecture room as he shared the do's and don'ts of communicating. He spread a sense of security and comfort across the audience when he asked them to close their eyes and ponder some things.
"Allow self to be honest with self," the 2021 recipient of the Humanities Teacher of the Year award said to the audience.
He asked, "Have you ever feared the unknown when communicating, one-on-one communication…Have you ever avoided eye contact when talking with certain people? Open your eyes and breathe. And remember, it's okay to not be okay. However, it is not okay to stay not okay."
Petty gave tips for managing nerves when speaking. If your hands are moving everywhere, put the palms of your hands together, he advised. He stressed employing a quick breathing exercise before presenting a speech and removing interferences when delivering a message.
"It is necessary that you exhale. It's okay to do the Whitney Houston, but not the Angela Bassett," he humored. He emphasized that when one can share their struggles with another, it allows for the gift of contributing to another life.
If you want to stay on the right side of the spouse, co-worker, student, learn to communicate, Petty urged.
Petty graciously accepted the warm expressions of gratitude imparted to him and even responded with the exhibition of teary-eyed delight.
The students absolutely adore you, said his immediate supervisor Letha Richards, who enlightened guests of the small accomplishments and memories that make him an exceptional instructor deserving of the award.
"The kindness you have shown to your students and me will always resonate in our hearts. We appreciate your dedication and sacrifice," Richards expressed.
Coahoma Community College president Dr. Valmadge T. Towner thanked Petty for his service to the College, for merging his gifts and talents with that of CCC faculty.
"Jerome Petty is improperly named because there's nothing petty about him," Towner joked.
"Usually, we're in Jackson, Mississippi, at the Old Capitol Museum on a Friday night. It's a room filled with all of the community colleges, the presidents, deans, teachers, as well as all of the IHL schools and certainly the dignitaries across the state of Mississippi."
The Mississippi Humanities Council awards all recipients at each postsecondary institution with a monetary gift.