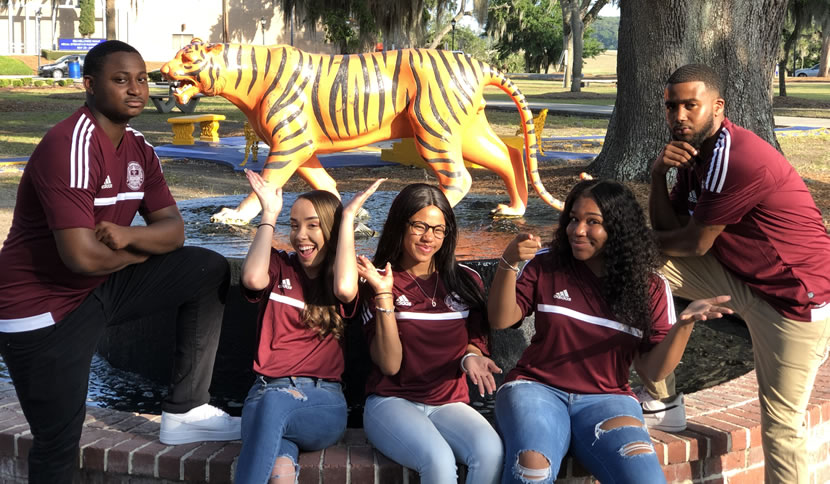 Members of Coahoma's Student Government Association recently represented as HBCU students at the NASAP (National Association of Student Affairs Professionals) Student Leadership Institute held on the campus of Savannah State University in Savannah, Georgia.
The NASAP Organization was created to further the professional development of Student Affairs in diverse, minority-dominant environments. The Student Leadership Institute is a student-serving component of NASAP for new student leaders of Historically Black Colleges and Universities, involving interactive learning for the purpose of strengthening their institutions and organizations.
While among several other student leaders from Historically Black Colleges and Universities across the nation, four CCC students attended sessions where conflict resolution, effective communication and understanding roles and responsibilities were discussed.
The student leaders were divided into tribe groups named after the Kwanzaa principles including Ujima, Umoja and Kujichagulia. Highlights of the weeklong seminar included a Women's Tea and a Men's Smoker as well as a themed awards ceremony where students dressed in Hollywood-inspired attire. Guest speakers and special guests were entertainment manager and TV personality Yandy Smith, former NFL player Michael Vick, Keith "Mr. I'm Possible" Brown, Lecia Rives and Patrick Walker-Reese.
The institute has given 2019-2020 SGA President Dierdra Gooden a new outlook on her role. She realizes that being voted to lead the student organization is not just about having a title.
"One has to be willing to serve, help the community and make a positive change for the betterment of the society," said Gooden. "As a student leader, one has to have the passion of giving, build a reputation for other future leaders to follow and focus on more solutions than problems."
"It is a wonderful opportunity for the student leaders to meet and learn from students of other illustrious HBCUs," she said, referring to the conference. "I had a great time bonding and getting to know other intellectual young men and women in the same position as myself."