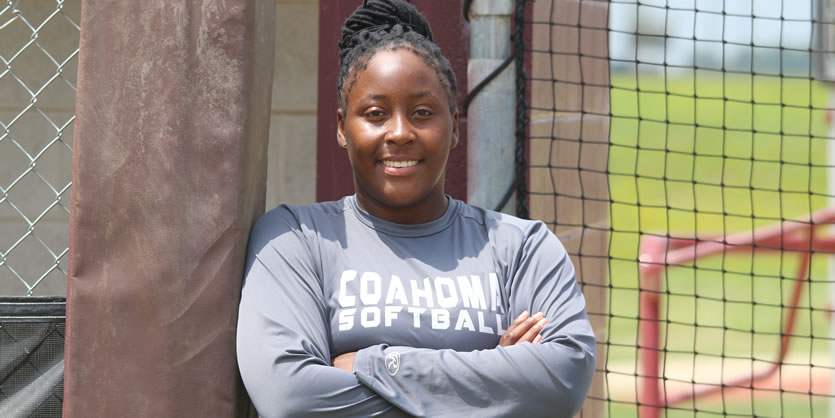 CLARKSDALE- Coahoma continues to make strides on the athletic front. Deanna (Faith) Harrington, a talented Lady Tiger of Coahoma's softball team, has signed a scholarship with the University of Arkansas at Pine Bluff.
Harrington led the Lady Tigers to greater success this past season. She had a .245 batting average, two home runs and eight RBIs.
UAPB has taken notice of Harrington's hard work and determination. The infielder from Louisville, Mississippi is prepared to advance to the next level.
"The reason why I chose to sign with UAPB is because of the great academic program that they have as well as sports," Harrington explained.
"Coach Michael Bumpers took time out and saw fit to recruit me. That itself was just a blessing, for him to be able to see that I could be a great asset to his program. Also, the coaching style and vision pulled me more into the program and I feel that I can succeed in it academically and athletically."
Harrington's leadership on and off the field is a result of her family pushing her to the limit.
"My family always supports my decisions especially when it comes to furthering my education; they are excited. Now given the chance to play at the next level as well as further my education, we are thrilled," said Harrington.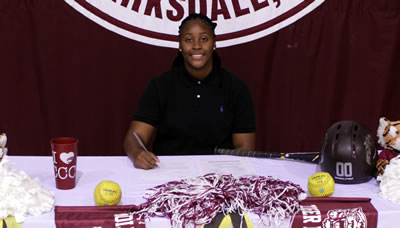 Harrington's experience with playing softball in the MACJC Conference will be the perfect addition to the SWAC Conference. She, however, thoroughly enjoyed her experience as a student-athlete at CCC.
"This signing, to me, means so much. Just being able to have that opportunity to play at the next level, as well as to further my education which is most important. What this means to CCC is that they produced a great student-athlete who not only works hard on the field but in the classroom as well, along with instilling great character and discipline. Now I am able to go play at the next level representing not only my hometown and family but CCC as well. Coahoma gave me the chance and helped me to get to the next level. Now, I can be a role model for the future CCC softball girls, showing them that no matter where they come from or what adversities they face, that they can still make it to the next level," said Harrington.
"Coahoma Community College has meant so much for me. It has given a foundation that I need to keep moving up in life. It has taught me how to overcome adversity and to keep fighting, no matter what. CCC has given me the tools to help prepare me for the world and I am grateful for that. I am proud to say that I will forever be a proud alumnus of Coahoma Community College."
Harrington's dedication to excellent athletic performance demonstrates Coahoma's commitment to hard work while in pursuit of big wins in Athletics. The Coahoma Community College Tiger family sends out huge congratulations to a star athlete for a great Tiger Nation achievement!