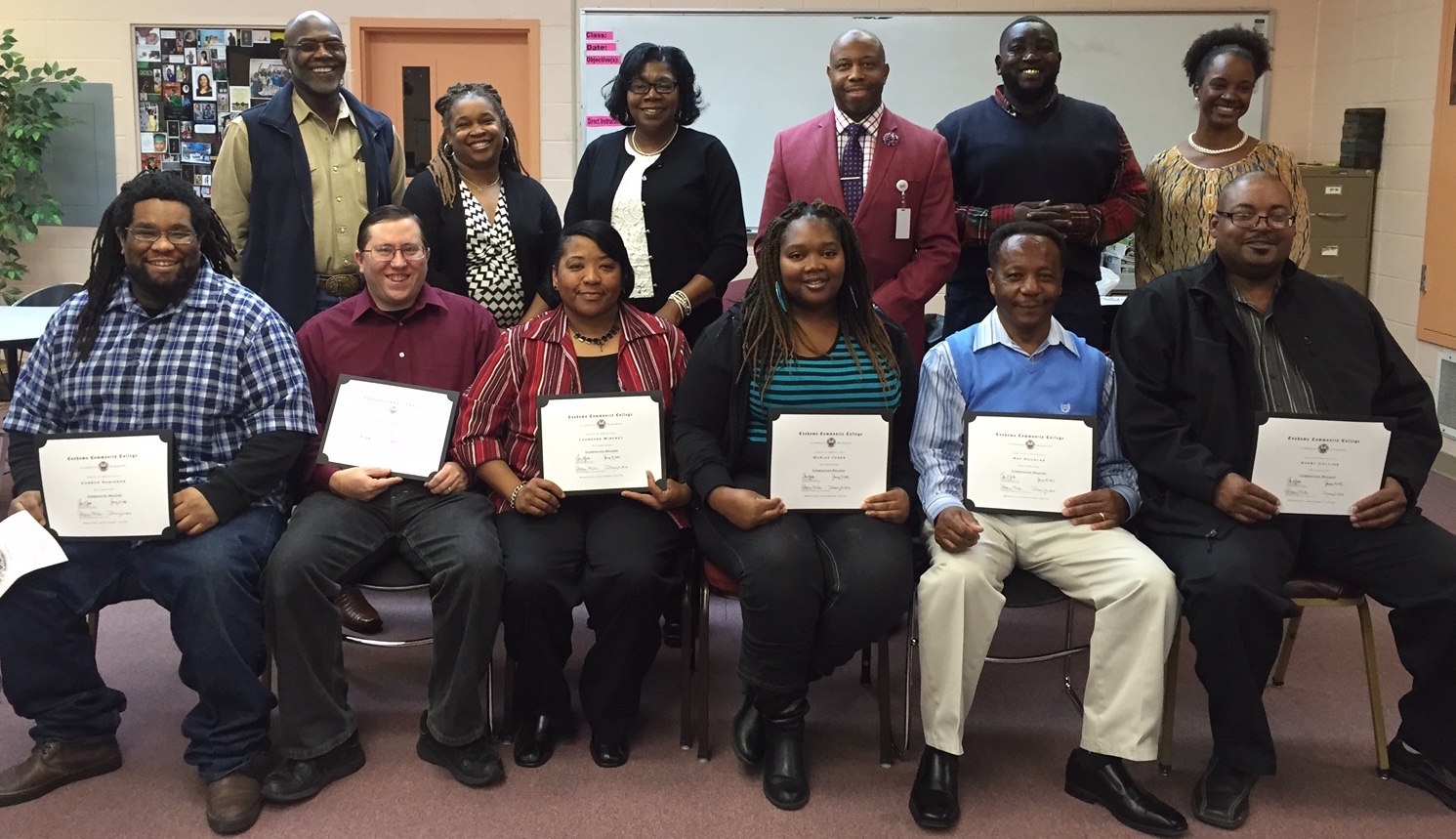 Pictured, front row, from left, are graduates Carron Robinson, Tyrone Wright, Laurease Winfrey, Mariah Jones, Roy Douglas Avery Collins along with (back row) Robert Burnley, Instructor; Tara Cunningham, GreenTech Automotive; Florine Miller, NEG Coordinator South Delta Planning and Development District; Steven Jossell, Executive Director of CCC Workforce Development Center; Jerry Ware, Instructor; and Sharon Donner, Tunica WIN Job Center.
CLARKSDALE – Only a few months ago, many residents of Tunica County, MS and surrounding areas were left devastated after the closing of Harrah's Casino. Now, thanks to a new program offered by Coahoma Community College, a group of dislocated workers are now ready for a fresh start with a new career in Welding.
CCC recently celebrated it's first set of graduates from the new short-term Welding program offered at Rosa Fort High School's David E. Williams Career and Technical Center.
During a special ceremony, hosted at the Tunica NEG Transition Center-MDES, six graduates were honored for their completion of the 144-hour, 16-week program.
Program graduates were presented Certificates of Completion in Combination Welding during the event. Tara Cunningham, talent acquisition leader for GreenTech Automotive, served as the guest speaker.
CCC's Workforce Development Center developed the unique program in partnership with South Delta Planning and Development District, using funds from the Department of Labor Harrah's Tunica National Emergency Grant. It specifically targeted Tunica County residents that lost their jobs as a result of the casino's closure.
 "I would like to commend the welding graduates for exercising initiative in 'stepping up to the plate' to acquire an invaluable and immeasurable skill that will take each of them far in life," said Steven Jossell, executive director of CCC's Workforce Development Center. "Many sacrifices were made on behalf of each to complete the training.  Accordingly, they have been afforded the opportunity to receive an unparalleled life and vocational skill and therefore, each has increased his/her marketability and is equipped to assuredly enter into the workforce."
Florine Miller of South Delta Planning and Development District also commended the graduates for their hard work and dedication.
"You never know what is around the corner unless you peek. These graduates looked and turned the corner and armed themselves with the skills and knowledge to go directly into the workforce," Miller said. 
According to Jossell, the short-term welding program was strategically selected in direct response to the great need for a qualified pool of applicants in the fast-growing welding industry.
"Our existing short-term welding class at the Workforce Development Center (in Clarksdale) has been one of our most successful classes in terms of the rate that participants are hired upon completion of the class," said Jossell. "We're very pleased with the success of this new short-term program and look forward to offering future welding training based upon industry-specific needs and demands.
According to Jossell, the partnership with South Delta Planning and Development District played an integral role in the development, implementation, marketing and funding for the program.
He also credits the hard work of the instructors for the program's success.
"I'm immensely grateful for these two world-class professionals, Robert Burnley and Jerry Ware, for serving in their capacity as welding instructors. Each of these gentlemen did a phenomenal job in imparting real-world practical knowledge and experience to participants during the course of the training.  Both of these gentlemen are second to none and are the 'real deal' in their craft," he said.
Plans to offer a second short-term program are now underway.
Jossell said the Workforce Development Center is currently collaborating with South Delta Planning and Development, area WINJOB centers and the David E. Williams Career and Technical Center to continue the partnership.
Interested individuals can contact CCC's Workforce Development Center at (662) 621-4300 for more information.