CLARKSDALE – The artist behind a popular comic book will be making his way home to visit Coahoma Community College next week.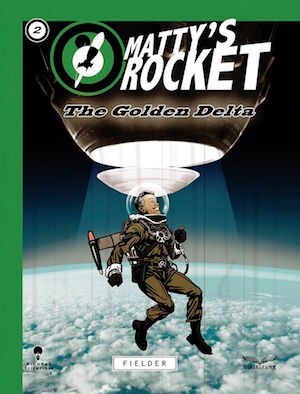 Tim Fielder, the Marvel Comic artist and author of the popular book series Matty's Rocket, will be hosting a book signing at 10 a.m. Thursday, March 3, in the Magnolia Room of the Zee A. Barron Student Union.
The event is organized by CCC's Division of Enrollment and Student Services' Career Center in partnership with Coahoma County Youth Outreach, and according to Trina Cox, CCC coordinator of career services and placement, the event is a great opportunity for the campus and community to converse with the homegrown author.
"This experience will bring different people together for a unique event to celebrate the success of a Clarksdale, Mississippi native who is making his mark in the comic industry," said Cox. "We are really excited about him coming … he has been doing some great work, and we're excited to welcome this individual who grew up in this community home."
Fielder, an illustrator, concept designer, cartoonist, and animator, is a lifelong lover of Visual Afrofutuism, Pulp entertainment, and action films. His latest project, "Matty's Rocket" is Fielder's first foray in the genre coined as "Dieselfunk". 
With several years of experience in storyboarding, film visual development, gaming, comics, and animation industries, Fielder's clients have included Marvel Comics, The Village Voice, Tri-Star Pictures and Ubisoft Entertainment. 
In addition, he has worked as an educator for institutions such as New York University and the New York Film Academy. 
For questions or more information about this event, contact Cox at (662) 621-4674 or tcox@coahomacc.edu.