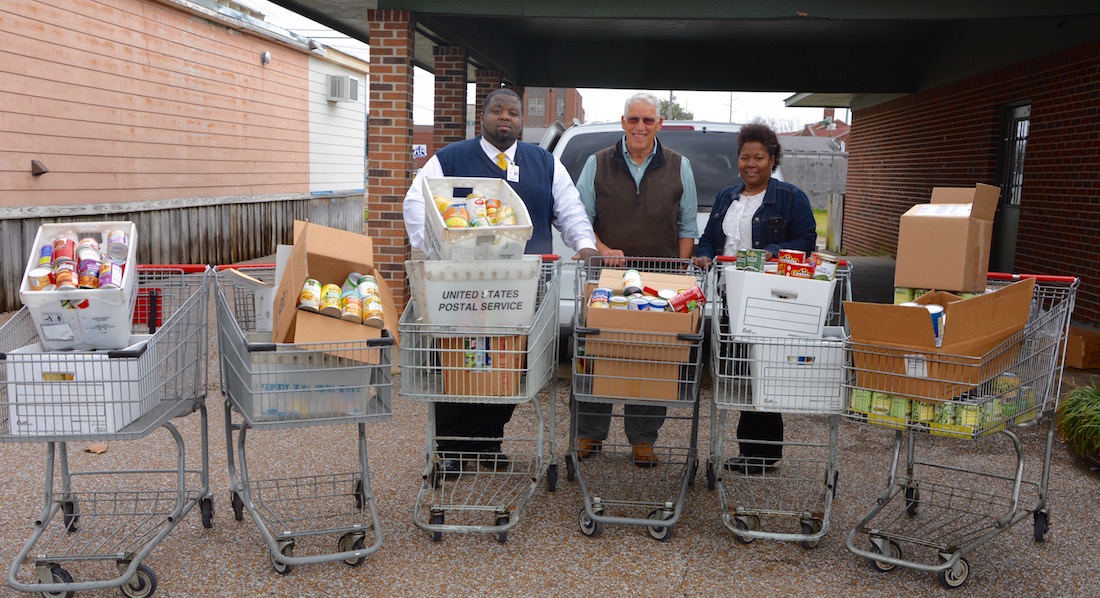 CLARKSDALE – A Coahoma Community College van filled to capacity with canned goods unloaded at a local soup kitchen last week. The cans, which filled six grocery baskets, were collected during CCC's Business Department's annual canned food drive.
The hefty donation was presented to the Care Station, which has provided hot lunches and devotion to more than 60 individuals in-house and delivering another 175 "meals on wheels" each day to the Clarksdale community since 1987.
According to Care Station President Charles Estes, the donation will be great help in carrying out the mission of the non-profit organization.
"We're feeding about 200 people per day, and because of CCC's donation will be able to provide meals for about a month," said Estes.
With a small influx of visitors due to recent flooding, Estes said the timing of the donation couldn't have been better.
"The Red Cross instructed individuals who needed food during the week to come for lunch here, and, so far, we've been able to handle it," said Estes. "But I tell you, donations like this help make all the difference in the world."
CCC Business/CIS Chair Deborah Carter said she's thankful for the support she's received from the campus in the continued success of the project.
"We're so appreciative to out faculty, staff and students, for helping us each year in our endeavor to help feed the needy in our local community," said Carter.
"It's shocking the number of people right here in our community who rely on our local food pantry to feed their families. …This is a great way for CCC to give back to the community and help those in need."
CCC CIS/Business Instructor Jeremy Pittman said that the project is always a meaningful experience for many of his students.
"Often times people think about the Care Station during Thanksgiving and Christmas, but food insecurity isn't only a holiday issue," said Pittman.
"Many of the students that we serve recognize that food insecurity is a major issue in the communities that they come from, so this project gives them an opportunity to address an important issue in their local community."
Estes said he's thankful for the support of CCC and looks forward to a continued partnership.
"The partnership with CCC has been great. We've had the girl's basketball team here, students from the (Division of Career and Technical Education), not to mention the canned food drives—it means the world to us," he said.