CLARKSDALE – A Coahoma Community College instructor has been named as a recipient of the prestigious Mississippi Business Journal "Top 50 Under 40" award.
CCC Adjunct Sociology Instructor Emanuel E. Edmond was recently selected for the honor, designed to recognize individuals who have made significant contributions to Mississippi's overall economic progress and are among the most influential business leaders, under the age of 40, in the state.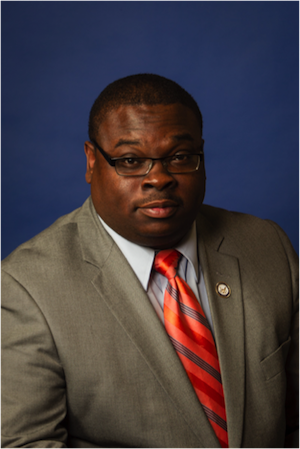 A resident of Greenville, Edmond began his current position at CCC last semester and teaches courses on college's main campus and off-campus site in Shaw, MS. He also previously served as the Coordinator for CCC's Adolescent Evening Reporting Center.
 "I am both honored and elated at having been selected for such a prestigious award," said Edmond. "I have vowed to devote my life to the service of those who find themselves marginalized in our society. There is no greater honor than that of improving the quality of people's lives."
Recipients of the "Top 50 Under 40" award are nominated by friends or business associates who best know their professional and civic involvement. All of the recipients have involvement that go well beyond normal working hours and are active in civic and community activities.
A graduate of Delta State University, Edmond holds degrees in Community and Economic Development, Sociology, and Vocal Performance. He maintains numerous certifications, including a designation as Master Project Manager through the American Academy of Project Management.
Currently, Edmond serves as Chief Monitoring & Compliance Officer for the Delta Regional Authority—an independent federal economic development agency, headquartered in Clarksdale, MS.
He also serves as a Senior Technology Consultant for Appen Technologies in Seattle, WA and is a member of the advisory board for MuniStrategies, a Jackson, MS-based organization that specializes in tax-advantaged lending and investing with a special focus on low-income communities.
Edmond is a member of Mercy Seat MB Church, in Greenville where he serves as the Director of Music and on the Board of Trustees. He credits his success to a deep faith in God and strong ties to supportive family and friends. In his spare time, he enjoys traveling abroad and cooking.
A special luncheon, honoring all "Top 50 Under 40" recipients is slated for April 7 at the Hilton Hotel in Jackson.