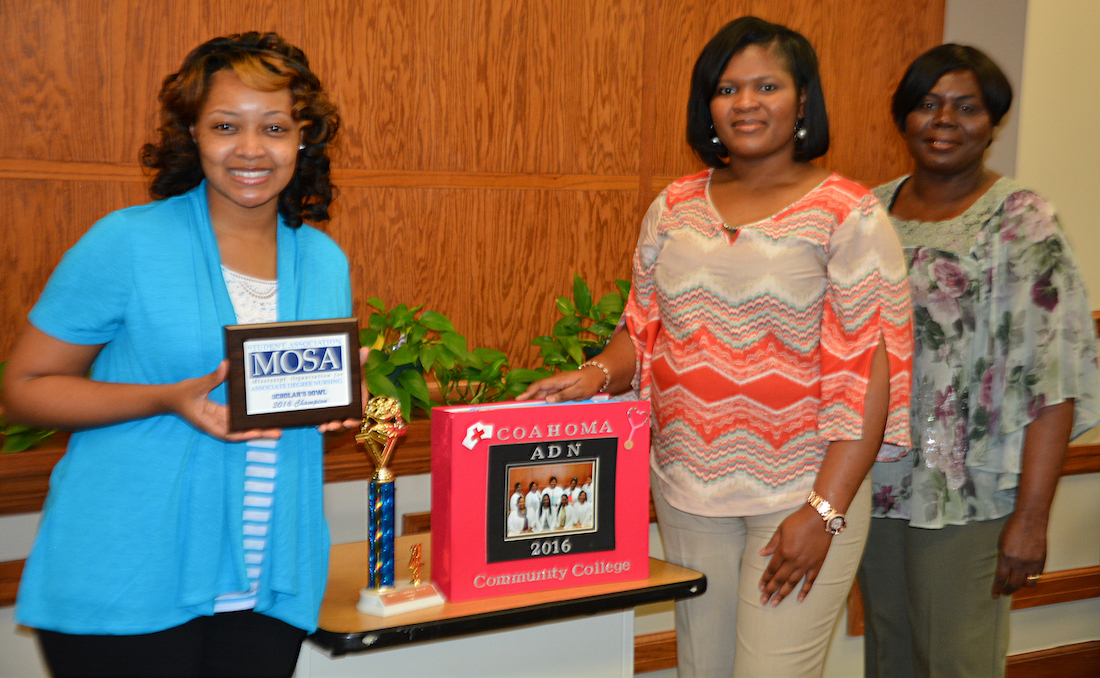 Pictured, from left, are CCC ADN students Torrie Johnson of Clarksdale, MS; Jennifer Hill of Glendora, MS; and CCC ADN Program Director Lorean Willingham.
CLARKSDALE – For the first time in Tiger history, Coahoma Community College's Associate Degree Nursing (ADN) program brought home a first place award from the Mississippi Organization for Associate Degree Nursing (MOADN) Convention's Scholars Bowl competition.
"We're the little school with the big knowledge," chuckled CCC Associate Degree Nursing Program Director Lorean Willingham. "But seriously, we do have a small program and it's still relatively new compared to all the other schools, so this achievement really made us proud."
Hosted recently in Vicksburg, MS, the event featured students from ADN schools across the state that faced-off in several contests, including a scrapbook competition, computer-generated quizzes and testing strategies.
The Scholars Bowl is a competitive, timed, multiple-choice test—offering students just 30 seconds to answer questions from a variety of nursing skills and specialties.
Representing Tiger Nation were Torrie Johnson of Clarksdale, MS and Jennifer Hill of Glendora, MS. According to Willingham, the students were selected based on their current outstanding performance in the program. Both first time competitors, the graduating sophomores were excited to learn they'd won the competition.
"It was amazing," said Johnson. "And emotional," added Hill.
"We were told that this is the first time (CCC) has placed and it was just great feeling for us to be the ones to do it," said Johnson.
The duo said they were able to get in a quick study en route to the conference, but in the end it was the skills they'd received in CCC's program over the semester that led to a victory.
Willingham said she's very proud of the students' achievement.
"It was the first time that we've ever placed first in the Scholars Bowl which is a very challenging competition because you have no idea what questions will be asked," said Willingham. "It's just like a mini preparation for the national boards, so we're excited to see our students excel."
The recent award adds to a year of victories for CCC's ADN program; in addition to achieving it's national accreditation last spring, the program currently boasts a 100 percent board pass rate.