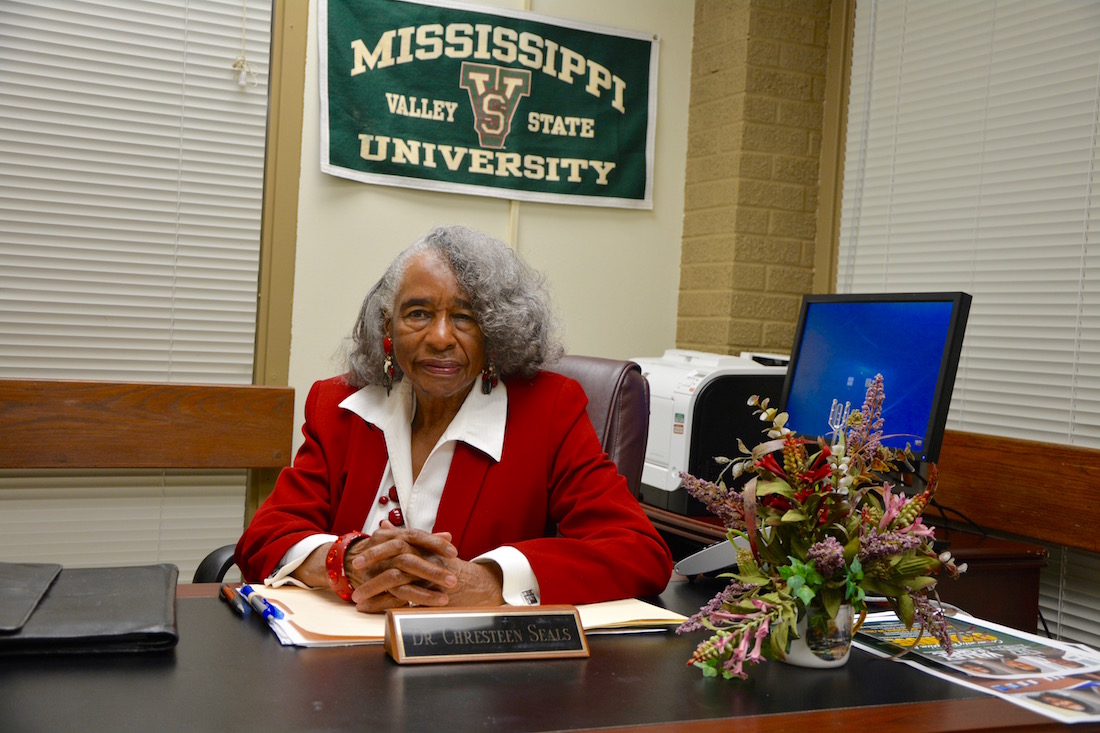 Dr. Chresteen Seals, pictured above, is leading a partnership that allows MVSU students to conveniently take MVSU courses on the campus of CCC.
CLARKSDALE – This semester, Coahoma Community College is continuing to build upon its mission to provide educational opportunities to its five-county district by continuing a unique partnership with a local university.
Mississippi Valley State University (MVSU) in now conveniently offering courses on the campus of CCC. Registration for MVSU classes offered at the CCC site will be Wednesday, Jan. 6, from 5:30 p.m. to 7:30 p.m. in the Magnolia Room, located on the second floor of the Zee A. Barron Student Union.
Spearheaded last semester by Dr. Chresteen Seals, director of MVSU's CCC site, the partnership is available to MVSU students in the Coahoma County area, as well as graduating CCC students interested in continuing their education at Valley.
"We're really excited about this partnership," said Seals. "MVSU President (William Bynum)and CCC President (Valmadge Towner) both are committed to bringing education to individuals in the Coahoma County area. This gives students who may not have the means to afford a car or drive everyday the opportunity to conveniently continue their education once they leave CCC."
According to Seals, the program is specifically designed to be beneficial to CCC graduates.
 "We have a great working relationship with CCC's Office of Admissions and CCC students are able to forward their transcripts to (MVSU) at our expense," said Seals."Once an individual completes their degree at CCC, we have a seamless transition that will allow them to continue their education at MVSU in their own backyard."
Seals was instrumental in building MVSU's off-campus site at the Greenville Higher Education Center (GHEC), located in Greenville, MS. She led that program from 2001 to 2003 and now brings her expertise to the Coahoma County community with the goal of mirroring the success of the GHEC in Washington County.
"Our mission to help is to help make receiving an education attainable to everyone," said Seals. "That's why we're here at Coahoma Community College, and we look forward to continuing this partnership."
According to Seals, the classes offered are taught by adjunct instructors and are tailored to fit the needs of the students. Those MVSU students attending classes through the CCC site are also eligible for financial aid and scholarship opportunities just as those students attending classes on Valley's main campus.
For questions or more information, call Seals at (662) 621-4057 or visit her office, located on the first floor of the Zee A. Barron Student, from 1 to 5 p.m. each Tuesday and Wednesday.