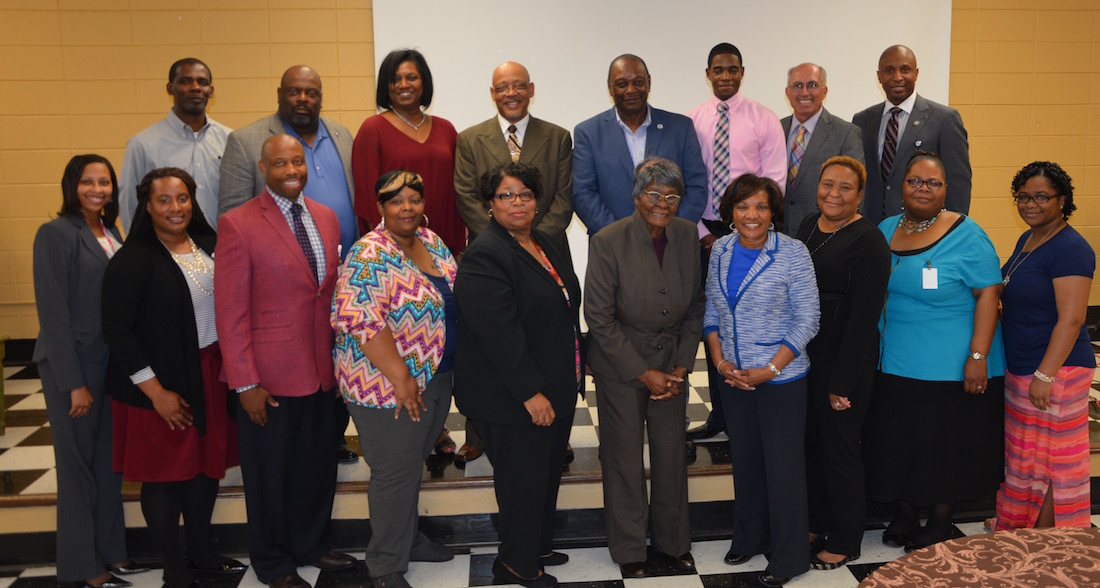 Attending the meeting were (front row, from left) Taneisha Young; Lashundra Harris; Steven Jossell; Cavotta Pryor; Shirley French; Lillie V. Davis; Velma Wilson; Pamela Davis; Cynthia Roberson; and Khadijah Thigpen (second row) Leandrew Presley; Eric Keys; Tea Keeler; Michael Jossell; Manuel Killebrew; Albert Bush; Johnny Tullos Jr.; CCC President Dr. Valmadge Towner.
CLARKSDALE – Coahoma Community College initiated a candid, open discussion with Quitman County community leaders Tuesday morning to see what could be done to beef up recruitment within the community.
The event, hosted at 11 p.m. in the Gallery, was organized to help the college meet its goal of increasing the enrollment of traditional and non-traditional students in the Quitman County community, and more specifically, Madison Palmer High School. It's part of CCC's renewed effort to get the entire campus active in recruitment.
"You're here not just to help us, but our community," said CCC President Dr. Valmadge Towner to city and county officials. "We have some challenges … we need you to help us get the word out that Coahoma is a great place that offers many opportunities that will ultimately result in the uplifting of our community."
CCC Director of Student Success Eric Keys, a member of the recruitment group targeting Quitman County, said the event was organized to gain the input and hear ideas from community stakeholders.
"We decided to bring community leaders together to have a luncheon to brainstorm some ideas and talk about some of the barriers we're facing in Quitman County and what we can do to help elevate them," said Keys. "We want to know what we can do see more students from the Quitman County area here."
Following a gourmet lunch prepared by CCC's Culinary Art Department, the group discussed a wide-range of barriers— from lack of transportation to peer pressure. Several suggestions were also offered on what could be done to improve CCC's visibility within the community.