CLARKSDALE – A Coahoma Community College Tiger recently traveled to the "Big Apple" to join a national discussion about issues facing African American girls in the United States.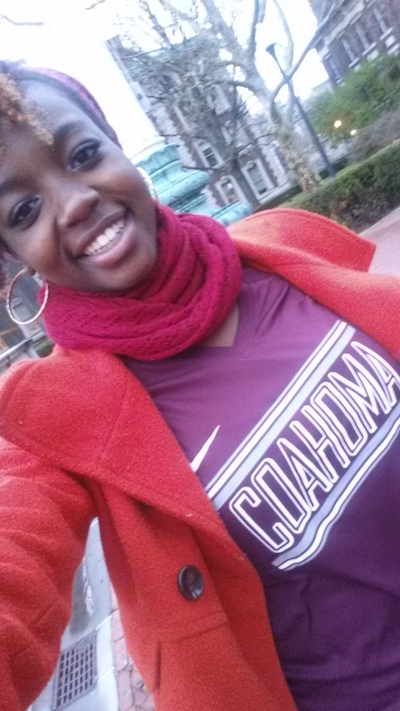 CCC Freshman Shalom Wallace (Alligator, MS) attended the National Black Girl Movement Conference, hosted April 7-9 at Columbia University's Institute for Research in African-American Studies in New York, NY along with two other young female leaders from Alabama and Georgia.
The national conference, which brought together activists, artists, educators, policymakers, and black girl leaders, focused on the experiences and realities of African American girls across the United States to ensure that they aren't left behind during today's unprecedented racial justice movement.
Wallace is a member of the Children's Defense Fund Southern Regional Office (CDF)-Unita Blackwell Young Women Leadership Institute (YWLI). The Institute is a program of the Southern Rural Black Women's Initiative for Economic and Social Justice (SRBWI) and is sponsored by the Children's Defense Fund Southern Regional Office, located in Jackson, MS.
Thursday morning, Wallace attended a Pre-Conference Roundtable Session with the NoVo Foundation, a national organization that supports young girls around the world, off campus in Manhattan, NY.
"During the meeting we discussed ways we can help young girls in our own communities," said Wallace. "It was amazing meeting other young leaders from around the nation."
Friday morning Wallace visited a coffee shop in Harlem for the conference's first session, which included a three panel discussion and a Black Girl Cypher.  The first panel was entitled, The Past, Present, and Future State of Black Girls and included four panelist—each representing the past, present and future.
 Joyce Ladner, an author, represented the past. Monique Morris who is also an author and Daniella Carter, a Transgender Youth Organizer and Youth Homeless Advocate, both represented the present. A 17-year-old Baltimore-based youth organizer, Makayla Gilliam-Price, represented the future.
"This panel discussion was my favorite on Friday," shared Wallace. "I also enjoyed the Black Girl Cypher workshop where we communicated with each other through movement, dance and song. We were separated into groups and had to make a rap using topics given to us.  I really enjoyed myself and so did the other young leaders that attended it with me."
Saturday, Wallace attended the closing conference performance at the Low Memorial Library-Columbia University. Camille A. Brown presented "BLACK GIRL: Linguistic Play" which revealed the complexity of carving out a self-defined identity as a Black female in urban American culture.
"The play brought back so many memories of my childhood and games I played with my sisters, friends and cousins. There was live music and dancing and it was an amazing way to end the conference," said Wallace.
Wallace's trip concluded with a day of shopping and a tour of downtown Manhattan.
"We went to Central Park, and of course I took lots pictures!" she said.