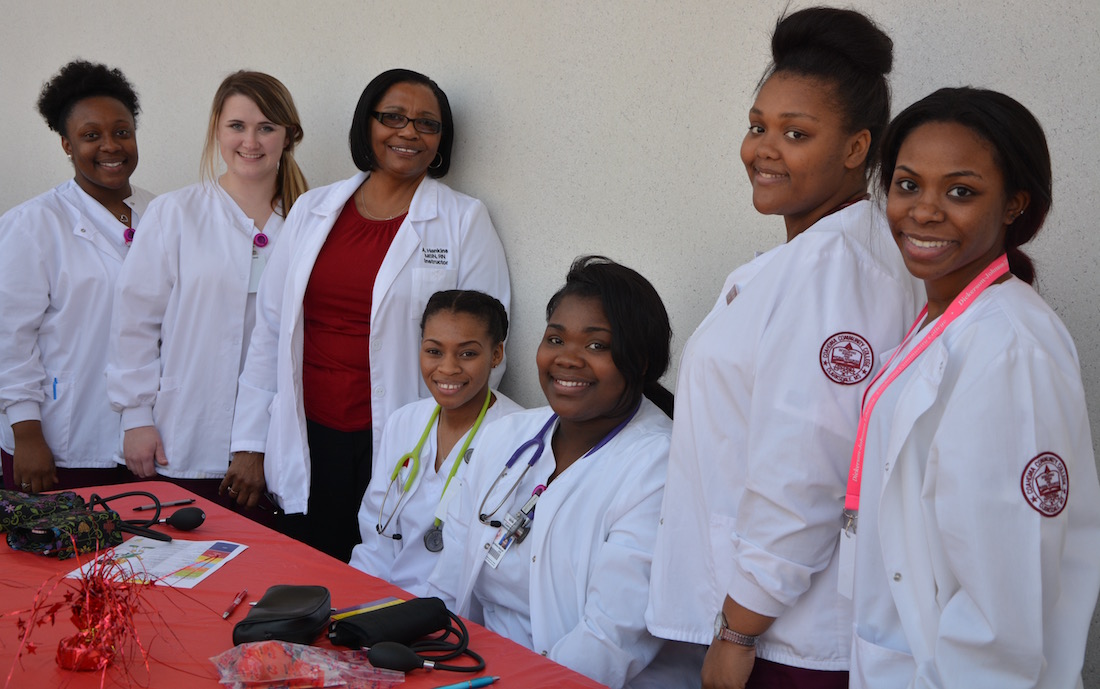 CLARKSDALE – Coahoma Community College joined forces with Merit Health's Northwest Mississippi Regional Medical Center and other community partners Friday morning to raise awareness about women's heart health.
Community members visited the front lobby of the hospital from 9 a.m. to 1 p.m. for the "Go Red For Women Heart Health Fair".
Organized in honor of "National Wear Red Day", the health fair provided free blood pressure checks, cholesterol and glucose screenings performed by CCC Practical Nursing (PN) students, as well as educational material.
Following the screening, participants were referred to a specialist or healthcare provider who could give additional information and resources if needed.
"One thing we've really been stressing is healthy eating to keep your heart healthy," said CCC PN Instructor Annie Hankins. "We have diet information and we're letting the students check vital signs as well as also educating individuals about what's normal and what's abnormal."
Hankins said the health fair is always a great learning opportunity for students.
"It's been a really good experience for us and the students because they're learning as they go. We're happy to be apart of this event," she said.
NWMRMC Director of Community/ Public Relation and Marketing Dianne Mitchell said the health fair is always a great way to raise awareness in the community.
"A lot of us do not like going to the doctor, and when we do go it's almost too late. By having something free, that gives the community the chance to be diagnosed early and gives them access to prevention education … the more education you know about signs and symptoms, the better off you'll be when it comes to controlling your health," she said.
She recognized CCC as a vital partner in making the health fair a success.
"Every year we can depend on Coahoma Community College, and we're so appreciative of them. It's a great day for our hospital, the community and CCC," she said.
Other sponsors included the Weiner Heart and Cardiovascular Institute; Iota Delta Omega Chapter of Alpha Kappa Alpha Sorority, Inc.; Iota Omicron Chapter of Omega Psi Phi Fraternity; The Women's Clinic of Clarksdale and Tougaloo College/Delta Health Partners Healthy Start Initiative.