CLARKSDALE – A new Coahoma Community College program is working to make Tiger Nation healthier by unrolling a campus-wide ban on smoking and tobacco products.
Last fall, CCC was among 37 public community colleges across the nation to be awarded a $5,000 grant by Truth Initiative to advocate for, adopt, and implement a 100 percent smoke-free and/or tobacco-free policy.
As part of the grant, the You Only Live Once (YOLO) tobacco-free program, named by members of CCC's Student Government Association, has been implemented on CCC's campus.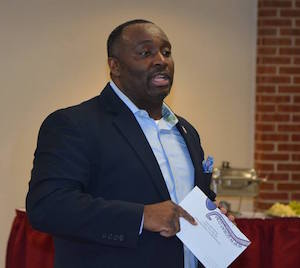 Under the direction of CCC Coordinator of Student Activities Chris Dixon and Assistant Director of Enrollment and Student Services LaShasa Griffin, the program aims to help reduce the prevalence of tobacco use and second-hand smoke exposure, educate and increase awareness of the dangers of tobacco products among CCC faculty, staff and students, and assist in the adoption of a comprehensive tobacco-free policy.
YOLO has also created a task force to assist in educating CCC's campus, as well as the community, on the dangers of tobacco.
Made up of CCC students, faculty and staff, as well as representatives from Region One Mental Health Tobacco Cessation Program, Mississippi Tobacco Free Coalition, Coahoma County High School "Generation Free" and the Mississippi Department of Health Office of Tobacco Control, the 30-member task force met for the first time Wednesday afternoon for a meet-and-greet and to receive information about the new program.
"I'm very excited to work with such a competent task force," said Dixon. "Our goal is to make everyone aware of the consequences tobacco—especially with it being the number one killer among African Americans, killing more African Americans than alcohol, HIV/AIDS, car accidents, illegal drug use, homicide and suicide combined."
Dixon and sophomore Tre'Voris Word of Frairs Point, MS traveled to Shaw University in North Carolina last semester to attend the first Tobacco-Free HBCU Campus Initiative, designed to help the institutions establish comprehensive tobacco-free policies on their campuses.
Since most smokers start before the age of 27, Dixon said Truth Initiative has identified college campuses as critical partners in curbing tobacco use. 
"Before this project, I wasn't aware of the dire effects tobacco had on the body and others through second-hand smoke," said Dixon. "Tobacco is purposefully being marketed to our young people, especially African Americans in low-income areas. We hope that by educating the campus we can encourage our young adults to not begin using tobacco products and help users to quit."
While CCC buildings are currently smoke-free, the policy will ensure that the entire campus is off limits to smokers and tobacco users.
A comprehensive tobacco-free policy is set to be in place by December 2017, Dixon said.