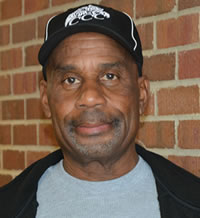 When Anthony Taylor was growing up as a young man in Clarksdale, there were three coaches who had a big influence on his life.
 "I have to give special recognition to my high school football coach Charles Barron, my high school basketball coach James Washington and my high school baseball coach Alexander Moffet," said Taylor. "And I can't forget Coach Willie "Rat" McGown, my head baseball coach at Alcorn State University."
He credits those coaches for their positive impact in helping to shape the direction of his life.
"They had a big influence on me. Had I not played sports, I never would have been offered a full scholarship to attend college," he said. "My mother, Corenlia Taylor, wanted me to get out of Clarksdale to better my future, and sports gave me the avenue to do just that."
Today, Taylor, simply known as "Coach" to many at Coahoma Community College and the Clarksdale community, is taking on the same role, helping youth to not only win on the field, but in life.
"See, I coach in the community and at the college so every where I go that's what they call me (Coach)," said Taylor. "But I think that's the most fulfilling part of my job … being able to be a positive role model for the youth in community and especially here at Coahoma Community College."
Taylor, a Clarksdale native, has been participating in athletics as long as he can remember. An alumnus of Coahoma Agricultural High School, Taylor was an all-around athlete, participating in football, basketball and baseball.
After graduation, he attended Alcorn University on a full baseball scholarship. A recreational leadership major, Taylor was elected as Freshman of the Year and played second base for the Braves' baseball team.
Following graduation, Taylor, an all-SWAC athlete, went on to try out as a free agent with the St. Louis Cardinals in 1981.
After a brief stint as the Recreational Director of the Belle Chasse Hospital in Louisiana, Taylor became the Recreational Director for the Delta Manor Developmental Center in Clarksdale from 1983 to 1994. During his time there, he organized the Coahoma County Senior Olympics and Special Olympics.
In 1994, he brought his passion to CCC as the Student Union Evening Director under Claudette Gooden. Although he organized activities for students at CCC, he also continued his work in the community.
"I've always been involved with kids. I did volunteer work in the community organizing sports such as soccer, slow-pitch girls softball, basketball, and flag football.
I also volunteered with New Jerusalem Baptist Church, assisting with the annual block party held each June," Taylor said.
When Otis Stanford took over CCC's Student Affairs department, Taylor was given the position of Recreation Director, serving in that role from 1996 until 2002. Meanwhile, Taylor also worked with the Region 1 Mental Health Center where he began as the Program Developer/AOP Program for Quitman County in 1995. However, after much contemplation, Taylor decided to step down from that position at Mental Health in 2007 to work part-time as the Purchase Agent and Safety Transportation Coordinator.
"That allowed me to spend more time serving the college and to do what I really loved," he explained.
Today, Taylor continues to serve CCC as the Student Union Evening Director and Intramural Coordinator.
"I really enjoy working with both adolescent kids and college students," he said.
In addition to serving in his official capacities, Taylor also taken on many roles behind the scene at CCC and in the community.
He was the physical education coach for the Upper Bound program from 2002 to 2010. He served as the Assistant Women's Softball Coach from 2004 to 2014 under Coaches Freeman Horton and Cedric Tenner. He coordinates Pee Wee Football and Basketball for community youth during CCC's football and basketball homecomings. He also works the concession stand during games and is known for making the best hot and buttery popcorn on CCC's campus.
And although he has a lot of irons in the fire, Taylor completes each duty with a positive and upbeat attitude.
  "I always tell the kids that talent only takes you so far; it's your attitude that will make you or break you," he said. "Both in athletics and in life, everyone has to learn how to lose—everybody can't be a winner. You must learn how to accept losing because if you continue to participate and live you're going to experience losses."
Taylor is married to his wife, Jackie, and has one son and four grandchildren.