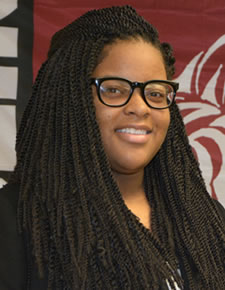 For Caitlin Wicks, attending Coahoma Community College first just made sense.
"As a senior, I really had to just stop and think about the transition process," said Wicks, a freshman Speech Education major from Tunica, MS. "Initially, I wanted to go directly to Jackson State University after high school, but I realized I'm an only child whose mom still wakes her up for school in the morning, so maybe that wasn't the best move for me."
Plus, the Rosa Fort High School graduate had already earned 12 college hours, while still in high school, thanks to CCC's Dual Enrollment program.
"It just didn't make sense to go to a four-year university and be out of thousands of dollars for the same courses I could take at Coahoma," she said.  I don't want to be in debt or have tons of loans to pay back when I finish college, so that's why I chose CCC."
Now in her second semester as a Tiger, Wicks she's already had several opportunities at CCC that will help her excel when continuing her education.
Her favorite instructors include CCC Public Speaking Instructor Dr. Kiskhi Hall.
"The way that she teaches, she instills the information in you so that you won't forget it," said Wicks. "I know that the skills she's teaching me will be beneficial as I advance in my education as a Speech Education major."
She's also met several new friends since becoming part of Tiger Nation and enjoys "conversing about life" with her cohorts.
After CCC, Wicks plans to advance to JSU and join the drama team. She also plans to pursue a career as a plus-sized model and began obtaining a Master's degree before diving into her career in Speech Therapy.
She advises other high school seniors to carefully weigh their options when choosing a college or university.
"You can transfer from a community college first and still get a four-year experience at a university while receiving your bachelor's and master's degrees," said Wicks. "College is not like high school. No one will be there to watch over you—you have to be self-motivated and self-determined."
For those who may be undecided, she encourages them to seriously consider attending CCC.
"The transition CCC offers will help prepare you tremendously for the future and it will also help your parents financially," she said. "Coahoma may not be your dream school, but attending here first will pay off in the future."