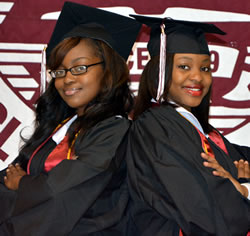 Who runs the world?
A prominent display of girl power will be featured in CCC's Graduation Ceremony Saturday, May 9, with two Lady Tigers leading the more than 400 graduates.
Named as the Valedictorian with the highest grade point average is Mikyra Cherry of Cleveland, MS.
"Since my first semester at Coahoma I have always worked hard to excel in all of my classes, so I wasn't really surprised because I have worked really hard for this honor," said Cherry who'll be receiving an associate's degree in Sociology. "It's very rewarding to see my hard work pay off."
In addition exceling in the classroom, Cherry has also been active on campus as a member of Phi Theta Kappa and the Spanish Club. She was also honored as a recipient of the Who's Who Among Students.
Standing by her side with the second highest grade point average will be Salutatorian La'Keedra Allison of Tutwiler, MS.
"I'm enthused to know that I will be one of the leaders of the Class of 2015," said Allison, a pre-nursing major. "I'm excited to see my hard work and sacrifice afford me such a great honor."
Allison is also a member of Phi Theta Kappa and was selected as a NASA Scholarship recipient.
In addition to being a testament to the opportunities available at CCC, Cherry and Allison said they hope they can inspire other students, particularly women, to see that all things are possible for those who work hard and believe. 
"I feel like Coahoma has provided me with the beginning to a great future," said Cherry. "I want to encourage my fellow classmates as we move forward to turn all 'can nots' into 'cans'."
Graduating from CCC is only beginning for the young ladies who both expressed plans to further their education. Cherry plans to attend Mississippi State University in the fall while Allison is anticipating being accepted into CCC's Practical Nursing program.
In the meantime, both ladies are busy finalizing their graduation speeches and final words to the Class of 2015.
"I would like to say to my fellow graduates that the journey is not over. … From here we must keep going and continue to reach for excellence," said Allison.
"And we wish them all the best in life," added Cherry.