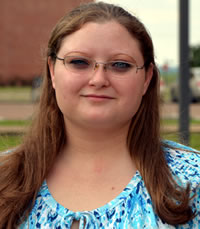 There are a myriad of reasons why Debra Black transferred to Coahoma Community College to become a part of Tiger Nation.
A Certified Nursing Assistant (CNA), the Drew native is currently majoring in Medical Billing and Coding at CCC and plans to use her degree to jumpstart a new career. Plus, CCC's location allows her to receive a quality education close to home while still maintaining her full-time job.
"The location is just more convenient and it's not that far from my home," explained Black. "I have friends and family here so I feel more comfortable commuting here should I have a blowout or something."
Since beginning her journey at CCC during the Fall 2014, Black feels as if she has became part of a family.
"I enjoy going to school and I enjoy getting support from my teachers and classmates," she said. "Everyone is so respectful and really make me feels special."
Eyonne Furdge and Kimberly Hollins are two of the instructors she recognizes for the going above and beyond to ensure she has academic success. With their help and support, she was able to earn a 4.0 GPA last semester.
"They're always willing to go above and beyond to help me in any way that they can.  If I have a problem with anything, they don't mind clarifying it for me," she said.
The best part for Black is that she'll be able to continue her career in the medical field in a new light once she receives her degree.
"This major allows me maintain my career in the health care field in more of a business setting as oppose to direct care," she said.
Black is confidant that CCC is preparing her for success.
"I'm getting more and more familiar with the coding and terminology. …When I leave here I know I'll have a lot more opportunities with my associate degree," she said.
After receiving her associate's degree from, Black hopes land a job in a hospital and continue her education by receiving a bachelor's degree.