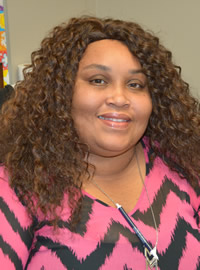 She's worked as the charge nurse of an entire Intensive Care Unit (ICU), as a telemetry nurse and a traveling nurse, but for Dr. Jacquelyn Brownlow, teaching has been the most challenging job she's ever tackled.
"I think nursing is a little easier than teaching because you can easily get comfortable in practicing your patient care skills, however, teaching requires you to be more innovative and creative," said Brownlow, an instructor in CCC's Associate Degree Nursing program.
For Brownlow, the transition from a career in nursing to education was an eye-opener.
"In teaching, you have to use so many different strategies to relay information, and even after you finish the workday at school, you still have work to do at home."
Despite the challenges, watching her students excel bringg the same sense of fulfillment as nursing her patients back to health.
"I like it when a student has that aha moment and you can see on their face that it's finally clicking—I really get a kick out of that," said Brownlow. "I also like watching the students grow from the first day of class to graduation—it's really fulfilling."
A native of Greenwood, MS, Brownlow initially majored in biology before deciding to enroll in Mississippi Delta Community College's Practical Nursing program.
"I've always had an interest in science," she said. "My original goal was to be a pediatrician, but then life happened, so I ventured off into nursing instead."
Brownlow then received her ADN degree from Holmes Community College and went on to receive her bachelor's and master's degrees from Delta State University.
But she didn't stop there; she received a Doctorate in Nursing Practice from the University of Southern Mississippi.
"I've always been a driven person," said Brownlow. "I could have stopped early on, but I've always wanted to receive my doctorate so I kept going back until I did just that."
She received her first teaching opportunity, instructing freshmen level courses, while completing her master's at DSU. After DSU, Brownlow joined CCC's budding ADN program in 2011 as an adjunct professor.
She said helping to get the program nationally-accredited was a great learning experience.
"It was challenging, but it gave me the opportunity to learn about the accreditation process and curriculum building, said Brownlow.
Outside of work, Brownlow enjoys attending football games (she's a die-heart Pittsburg Steelers and Alabama fan)
She hopes to be remembered for integrity.
"My granddaddy always stressed that my word is my bond—if you tell someone that you're going to do something, make sure that you do it. And when you do it, make sure that you do your best," said Brownlow.