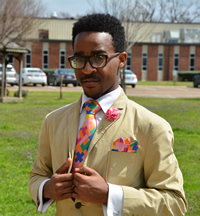 College is the time when most people either neglect or mature in their faith — Jeremy Cole chose the latter.
The 20-year-old Memphis native and Coahoma Community College General Studies major is a young preacher who has blossomed not only intellectually but spiritually during the past two years at CCC. Now a graduating sophomore, Cole is active on campus as a member of the choir as well as the Coahoma Male program.
"I have witnessed myself grow tremendously during my time here. I am a much bolder singer now, and I feel more grounded in my calling," said Cole.
He highlights instructors like JoHarrison Rockett who has not only taught him math, but serves as a personal mentor as well.
"He talks to me as if I'm his son, and I consider him as a Godfather. He's a pastor and I'm an upcoming preacher so he shares with me things about the Word and encourages me to study my bible and learn more," said Cole.
Cole is not to be confused with his brother, Jamal (affectionately called "Bishop" by his peers). Although they made the journey to the Tiger Nation together and are often mistaken for twins around campus, Jamal is actually a year older.
The two can be often spotted at campus functions together, and Jeremy said it's been awesome having his best friend with him during his time at CCC.
"It has always been me and brother. We grew up together and we're very close," he said. "Although we're not twins we still have that connection because if he's hurting, I can already feel it and he doesn't even have to tell me."
The brothers' decision to attend CCC was fueled by their mother, Glyniss Cole, who is a 1989 alumna. Their father — Millington, TN native Timothy Cole — also pastors Liberty Baptist Church in nearby Lyon, MS.
"Our mom is a graduate of Coahoma, and she always spoke fondly of her time here at CCC," said Cole. "We told her after our high school graduation that we would be coming to her college, and she was tearful when we shared with her our decision."
Cole plans to attend Union University in Jackson, TN in the fall to major in Theology, Philosophy of God and Religion. After receiving his bachelor's, Cole plans to move into the United States Navy to become a Chaplin.
While it'll be the beginning of a journey for the first time without his brother, Cole is confident his time CCC has prepared him.
"CCC was a new experience for me … I've been getting to know new people and adjusting to this new environment, but I love it and I wouldn't trade this experience for anything in the world," Cole said.
He encourages other students to "stay focused, do the work and always try your best."