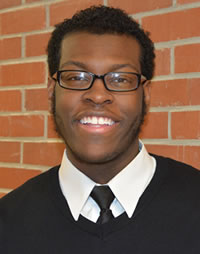 In more ways than one, attending Coahoma Community College feels like hitting the jackpot for Justin Johnson.
The sophomore biology major from Clarkdale, MS initially had plans to attend a 4-year university right after high school, but began to consider other options after he didn't receive enough financial aid to cover tuition.
"The main reason I began to seriously consider CCC was because of its affordability," said Johnson.
In the end, Tiger Nation won Johnson over, offering him a high-quality education that was convenient, but most importantly affordable. 
Since attending CCC, Johnson is proud to report "money has flourished in (his) bank account."
In addition to being awarded several scholarships, Johnson is a member of Phi Theta Kappa, the Math and Science Club, the Book Club, and serves as a lab assistant in the Science Department.
He has been extended the opportunity to shadow a local pediatrician, giving him a unique inside look at his future career, and was recently selected to participate in the University of Mississippi Medical Center's Health Equity and Leadership Initiative—designed to help prepare African-American males for a career in healthcare.
An as it all those blessing weren't enough, CCC provided the avenue for him to meet his best friend.
Johnson is convinced these are experiences he wouldn't have received anywhere else.
"I would recommend that all high school seniors seriously consider attending a community college first to join organizations like Phi Theta Kappa," said Johnson. "That way they'll be eligible for money and be more financially secure after their tenure at a community college."
After CCC, Johnson plans to continue his education at Alcorn State University.