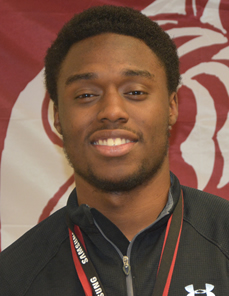 Justin Smith is a study in versatility.
The 18-year-old Coahoma Community College freshman runs track and has interest in baseball and football. But he also loves reading, movies, photography, comic books and Star Wars.
"I was actually a late-bloomer when it came to sports," Smith said. "I was only into books and comics in middle school—I still am. Everyone called me a nerd but the older I became my older brother and dad influenced me athletically … they both were All-Americans."
A native of Mobile, AL, Smith attended McGill-Toolen High School before transferring his senior year to Murphy High School. During high school, he played football and was a member of the track team as well.
"I had really good coaches who tried to get my name out there and get me signed to a community college first," he said.
Smith said he never second-guessed beginning his college career at a community college.
"My older brother, Jason, played at Mississippi Gulf Coast Community College first, and he actually transferred to Auburn to play football and is doing pretty well.," said Smith. "I though it would be a good idea for me too because it's a stepping stone—it's not high school and it's not a university completely so that's pretty helpful."
After talking with CCC Track Coach Reggy Hankerson and doing a little research on his own, he knew CCC was the right fit for him.
"I had a lot of other junior colleges to choose from, but I felt like this was the best one for me," said Smith. "I love the people here, they're really nice and fun. Plus, it was the only school with both track and football teams and although it's six hours away, it was closer than some of the other schools that showed interest in me."
He said he was also excited by the prospect of helping to build CCC's budding track team.
"I can appreciate that the track team is a young program that just got started," he said. "To me it felt like a great idea to help build a program and leave that legacy."
In addition to developing his athletic abilities, Smith is also majoring in Film.
"It started when I was a kid. I was always inside watching television, and I didn't realize it at the time but I really enjoyed TV shows and movies," he said. "My junior year in high school I really fell in love with film and understanding how they made movies."
Between all of his hobbies, Smith has little down time, but he prefers it that way.
"I like having things to do," he said. "I enjoy being active, but I take my rest seriously too."
After Coahoma, Smith has a couple of schools he's eyeing including Auburn with his big brother. However, wherever the future may hold, he's excited to have launched at CCC.
"I want to be remembered as someone who was new, fresh, not like anyone before me," he said. " I just want to be me—weird, unique, someone who's going to do it, and do it differently … I thank CCC for allowing me to do just that."