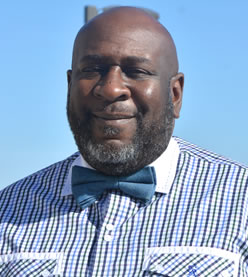 If you were to ask a school-age Kerry Lee what he wanted to be when he grows up, he would have said he wanted to serve his country in the US Marine Corps.
"As a child it was one of my life long dreams … I always wanted to become one of 'the few, the proud,'" said the Clarksdale native.
After graduating from Coahoma Agricultural High School, Lee did just that, moving to Chicago where he enlisted for a 4-year term with the Marines in 1988.
"I wanted to move up north to get away from Clarksdale and make room for my younger sisters and brothers and get out of my mother's home," said Lee, the seventh of nine siblings. "I probably wouldn't have achieved as much as I have now back then had I gone right to college because my mind wasn't on school, it was on making money."
However, just two years after enlisting, Lee's military career was cut short after he was injured during Operation Desert Storm during the Gulf War. Following his injury, Lee returned to Chicago where he worked in management for several different companies until 2000 when he moved back down south to be closer to family. He then worked various jobs in the Clarksdale and Memphis area before deciding it was time to enroll in college.
"It was one of my life long desires to go back to school. It was a personal goal for me to become formally educated … I was probably the only one of my siblings that did not have a college degree," Lee said.
To change that, Lee enrolled at CCC where he earned an associate's degree before heading to Mississippi Valley State University and receiving a bachelor's degree in Communications with a concentration in Radio and Television Broadcasting
"It was one of the greatest feelings in the world to accomplish my goal. I was very excited about it," he said.
In July of 2014, Lee was given the opportunity to come back to CCC as a recruiter in the Office of Admissions—a job Lee said he finds much satisfaction in.
"I love what I'm doing. I love helping students achieve their dreams and get to the next level in life. I love inspiring, convincing and motivating them to enroll in college so they don't have to waste 25 years of their life out in the world trying to find something to do—that's the biggest joy I have," he said.
While he's encouraging others to launch their own college education, Lee is currently continuing his own education at Delta State University where he's pursuing a master's degree in Business Administration.
Although he's embarked on several different entrepreneurial projects in the past, Lee said he hopes to remain in the education community and continue helping others realize their potential and achieve their dreams.
"I definitely encourage others to do it. It's never too late and it's just a great feeling, a great achievement once you've done so," he said.