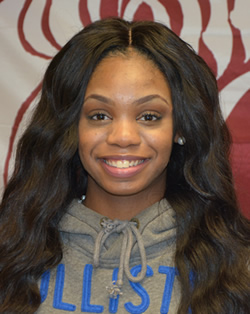 Coahoma Community College fosters personal development. Just ask sophomore LaShondria Gooden.
Gooden began her journey at CCC upon being offered a full scholarship after graduation from Coahoma County High School.
"What made Coahoma the right choice for me was the fact that it's close to home," said Gooden.
Today, the 20-yaer-old is very active on campus. She currently serves a president of CCC's prestigious Phi Theta Kappa Honor Society and treasurer of the Student Government Association. She feels that both organizations have been beneficial.
"Phi Theta Kappa will offer me tuition scholarships to other universities once I graduate from CCC," said Gooden. "The SGA has given me the opportunity to help my peers speak their mind and voice their opinions about certain issues."
Gooden said she feels she made the right decision in beginning her college career at CCC.
"It's been an overall good experience for me," said Gooden. "I like the classes, and the teachers are really helpful."
Her favorite classes include Instructor Raymond Pullen's Spanish class and Dr. Kishki Hall's Public Speaking class.
"Dr. Hall motivates me. She's so passionate about what she does. She's a really great instructor and she cares about all of her students," Gooden said.
Gooden enjoys reading and writing, and her favorite author is Langston Hughes.
After CCC, Gooden plans to obtain a bachelor's degree at Delta State before moving on to law school. She hopes to one day pursue a career as either an English professor or attorney.
"I'll tell anyone that you can make a great experience at Coahoma because there's a lot to do here…. You just have to come out to the functions and be willing to participate," Gooden said.