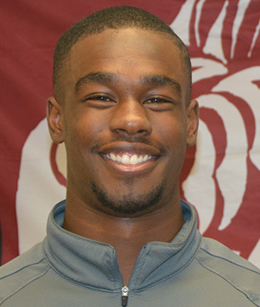 Latrell Marks has learned that bigger does not always mean better.
The sophomore Physical Therapy major transferred to Coahoma Community College after initially attending a 4-year university his freshman year.
While the switch was mostly motivated by football, Marks has also noticed a difference in the classroom too.
"They're a lot more friendly here and they're willing to work with you a lot more," said Marks, a native of Bruce, MS. "At the other school it was straight business, but it's more of a family here … they actually want better for us and care about our success."
After graduating from Bruce High School, the 20-year-old said he went to Delta State and joined the football team as a walk-on, but was red-shirted.
"It was fun, but it just wasn't for me, plus I wanted try and give myself the chance to get a bigger scholarship," said Marks. "I talked to my dad (Coach Yarnell Marks of Bruce, MS) and we started e-mailing schools across the state."
A call from CCC's Head Football Coach Karl Morgan sealed Marks' fate.
"Coach Morgan called and asked me to come over and try out, and I ended up making the team," he said.
While it's a lot different, Marks said serving as the Tigers' defensive back has been a learning experience.
 "I understand that Coahoma is in the rebuilding process. We have a lot of young guys who are still learning the meaning of family, but I guess that's all a part of rebuilding," he said. "…we're getting there though—as far as wins and losses you couldn't tell, but as far as growing as a unit, we're getting there. We're better than where we started for sure."
He most enjoying having his family there to support him.
"My dad has been to every game, no matter how far," he said. "It was really interesting when we played Northeast Community College because I have a brother on the team there."
Now 20-years-old, Marks said he's also beginning to understand the importance of going equally as hard in the classroom.
 "That came from experience," he said. "I wasn't a bad student my first year in college, but I know I could have done a lot better. Now I understand that football doesn't last forever. I'm pretty serious about what I want to do in my life after football, and I know I'm going to need my education to achieve that."
His favorite instructors include CCC Art Instructor Anthony Bernard. 
"He's very conscious and really serious about us handling ourselves, handling our business," he said. "He doesn't play games—he isn't trying to be your friend. He knows it's real out here."
Outside of football and school, Marks' hobbies include power lifting and coaching.
"My dad is actually a body-builder so I used to power lift a lot. I've won two state championships," he shared. "When I'm at home I also like to dabble in coaching a little bit and help some of the younger guys. That's the big positive of learning so much— you're able to give back to the younger kids."
After CCC, Marks hopes to attend the University of Mississippi to continue his education and football career.
"I'm just following whatever God's plan is for me. I'm just enjoying my life right now," he said. "I've learned to control the things you can control and always be the best you can be."