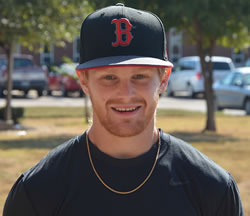 Coahoma Community College's appeal to Lowell Haney can be summed up with one word—baseball.
The 20-year-old from Olive Branch, MS initially attended East Mississippi Community College right after high school, but decided to transfer for his sophomore year for a chance at more playing time.
After meeting with CCC Head Baseball Coach Lee Hodge, Haney knew Tiger Nation would be a better fit for him.
"The team here has great chemistry," he said. "The program is definitely progressing … Coach Hodge will really make a name for Coahoma Baseball over the next couple of years, no doubt."
Haney, who has been playing ball since he was just three-years-old, said he most enjoys being able to use something he loves to pay for school.
"Baseball has always been a part of my life. My family is definitely all into baseball. It's been a part of my life so long that I couldn't even imagine not playing baseball," he said.
He's using his full baseball scholarship to complete an associate's degree in General Education at CCC. Between classes and baseball, he has little time to focus on anything else.
"I'm barely able to balance the two. It's constant work with very little downtime. But you have to be persistent and keep your priorities straight," he said. "It's tough being a student athlete, especially when you're taking classes like Calculus."
However, just like baseball, Haney takes his academics very serious. He even opted to join CCC's new Honor's Program.
"Mr. (Jeremy) Pittman is the Honor's Program coordinator, and he really does a good job of running all of those classes and teaching us leadership," he said.
After CCC, Haney hopes to continue playing baseball at a 4-year university.
His future plans include pursing a career in mechanical engineering although he would, of course, jump at the opportunity to play pro-baseball too.