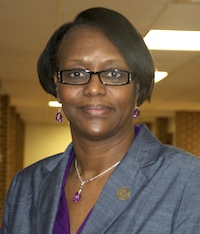 There aren't many departments at Coahoma Community College that haven't been graced with the sweet, humble spirit of Margaret Dixon.
Dixon, who currently serves as CCC's director of institutional effectiveness and SACS liaison, works to ensure that the College is in compliance with the Southern Association of Colleges and Schools Commission on Colleges (SACSCOC)—its accrediting body.
"I think that's the best part of my job… being able to interact and work with every single unit on campus," said Dixon, who's served at CCC for 16 years.
An 1987 alumna, Dixon found herself back on the campus of CCC in 1998 when she became the administrative assistant for Student Affairs and subsequently an instructor in the Division of Career and Technical Education's Business and Office Related Technology (BOT) program in 2001.
In 2006, after receiving a master's degree in Education with a concentration in Adult & Distance Learning, Dixon served the Educational Outreach Director for two years before joining CCC's Department of Institutional Effectiveness as the director of research and assessment in 2008.
Last year, Dixon was promoted to lead the department in her current position.
"I think every job that I've ever had here has been because: first, according to the Word, God gives promotions; secondly, because I submit to the authority that God places over me; and thirdly because I work hard," said Dixon.
 "Being in this role now, I can see the full circle of the entire campus. I've had a chance to experience various departments and I can use my experience to help ensure that the institution is in compliance."
A native of Clarksdale, Dixon is the 15th of 16 children. After graduating from Coahoma County High School, Dixon attended CCC as a Computer Science major with a concentration in Mathematics. She then continued her education at Jackson State University (JSU) where she pursued a bachelor's degree in Business Administration with a concentration in Finance.
"From elementary school I was fascinated by computers," said Dixon. "I remember when they introduced the first Apple computer. … I knew I wanted to work around technology."
The military was also something that appealed to Dixon.
"None of the local high schools had JROTC at that time, and I always had an interest in the military because I wanted to travel. But, coming from a poor family there's not much of an opportunity to do that."
Dixon's older sister was also in the military, so she saw first-hand the experiences and opportunities the military could provide.
"My sister Betty, she was a big influence too. She served in the military for four years and was traveling from place to place, and I wanted to do the same.'"
With that in mind, Dixon decided to join JSU's ROTC program.
"I just liked the discipline, the structure," she said. "I would see them running and singing around campus at Jackson State, and I remember thinking 'I want to do that.'"
 But because she joined as a junior, Dixon was also required to enlist in the Army Reserve. Little did she know, she would be activated to serve in a war soon after.
Dixon was deployed to Operation Desert Storm in Saudi Arabi in August of 1990—12 hours shy of completing her bachelor's degree. She served for one year.
However, despite many obstacles, once she returned to the States, Dixon packed up her car and returned to JSU to finish up her degree, becoming the first in her family to graduate with a bachelor's degree in 1992.
"I had a goal for myself to graduate and I wasn't stopping until I got it. Most people thought it was too soon for me to get back in school, but I knew that if I were to sit out, there was a greater chance that I wouldn't go back." said Dixon. "I saw how my sisters and brothers struggled without going to college, and I had my sister-in-law, Ruth Allen. She was always encouraging me to attend college."
Today, Dixon said she's blessed to be afforded the opportunity to serve the institution that launched her college career in such an important capacity.
"I think that being an alumni definitely makes you take more pride in your work and more appreciation too because you can attribute some of your education and success to the institution," she said.
Dixon is married to Lynn Dixon and has one daughter, Jamaya, and one grandson.