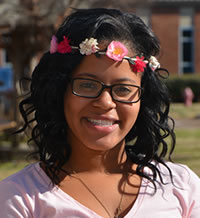 When Clarksdale native Naomi Lofton began her college education at Coahoma Community College this past summer, she wasn't sure it was where she wanted to be.
But it only took a few weeks at the Tiger Nation to convince Lofton that she was in the right place.
"Most of my family came to Coahoma so they encouraged me to come out here first before transferring to a university," said the 18-year-old Biology major. "I didn't want to come her initially, but, since coming here, Coahoma has provided me with a lot of opportunities I wouldn't get anywhere else."
Now in the second semester of her freshman year, Lofton has met a ton of new friends and great instructors.
"I would have to say that Ms. (Elizabeth) Melton is one of favorites," Lofton said. "I love how energetic her voice is. She's not monotone like some instructors and she walks around and interacts with the students."
An excellent student, Lofton finished the Fall 2014 semester with all A's and a B. She's also a member of CCC's Student Ambassadors—one the CCC's premier organization designed to give students the opportunity to participate in activities hosted on the campus.
Lofton plans to continue to work hard in hopes of landing a full scholarship to a university where she'll pursue a degree in Physical Therapy.
"I've always wanted to work with people who need help, so I really took an interest in Physical Therapy," Lofton explained.
She encourages other students to stay positive and to take advantage of the opportunities available to them.
"I've met a lot of great people, and I've been able to participate in several great opportunities because of Coahoma … I can't complain anymore."