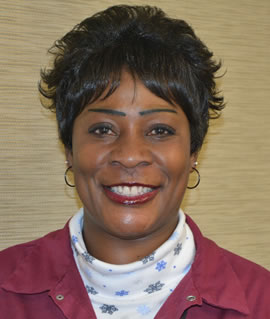 You'll usually find Coahoma Community College's Vivian M. Presley Administration Building spotless.  That can be attributed to hard work of one women—Patricia Sykes.
On any given school day, you'll find Sykes hard at work to ensure that CCC staffers have a comfortable work place and students and visitors are left impressed with the cleanliness of the building.
Her dedication to a creating a clean environment, coupled with her pleasant attitude, is evident as students enter and exit the administration building to register for class or visit the Financial Aid Office. With that contact alone Sykes is proof that that each staff members plays an important role in the success of the students at CCC.
While she's earned quite the reputation for taking her job serious, Sykes is known even more for her gracious smile that serves as a glimpse into her humble spirit.
"If you want to get along with people you have to have a pleasant attitude yourself," she said.
One of seven siblings, Sykes said she picked up her strong work ethic from her grandfather and parents, Prince and Rosie Bays of Lyons, MS.
"They taught me the importance of always doing my best no matter what I'm doing," she said.
Sykes joined CCC's custodial staff in 1999 and began stationed in Whiteside Hall, the former Business Office and the President's house.  Over the years, she has developed many great working relationships within the various departments and with students as well.
"I look forward to working with everyone in my building—I get along with everyone," she said. "My co-workers, my supervisors are all easy to get along with, and I love working with each of them."
She attributes her positive outlook on life to her faith.
"It's just God working with me all the time, keeping me up," she said. "I want to be remembered by all the good work that I do and as someone who was always kind and friendly to everyone."
Sykes is the mother of one daughter and has one granddaughter.