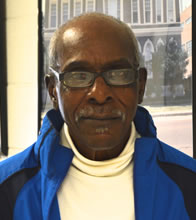 Quincy Moore does more by 8 a.m. than some people do in an entire day.
He faithfully wakes up at 3 a.m. every morning and is dressed and ready to hit the pavement by 4 a.m. He finishes his daily walk by 5:10. a.m., and then rushes off to the hospital and the nursing home where he fulfills his duty as a deacon at Union Grove Church to visit the sick. After a quick bite to eat, he grabs his backpack and is seated in Coahoma Community College's GED class at 8 a.m.
Moore is 81-years-old.
Filled with the charisma and energy of a man decades younger than himself, Moore said he first took a computer class offered at CCC's Workforce Development Center before enrolling in the GED classes there.
"I'm trying to get my GED … I'm trying hard," he said.
Moore comes to class every weekday from 8 a.m. until noon learning material to help him ace the GED exam.
"I didn't have the time to do it when I was younger. Back in the day I had to make ends meet," he said. "After my wife passed away, I told my granddaughter I wanted to go to school and she called and had everything set up."
Although he's older then most of his peers, Moore is still just as young as them in heart.
"The only difference is that they talk about their thoughts, but I can explain mine from experience," he said. "I told them when I first got here, don't look at my age as sympathy. Whatever you have everybody else doing, let me do it too. I just want to get it. Whatever it takes to get the diploma … I want to earn it."
Born in Holmes County in 1934, Moore spent most of his childhood in Alabama before moving to Coahoma County, MS at the age of 15.
"I was underage at that time, so I had to follow who was feeding me—my daddy," he chuckled. "He wanted to be his own farmer, but he was struggling and he eventually let it go and moved onto a plantation here."
No stranger to hard work, Moore said he began working in the fields at just 7-years-old.
"I used to plow 45 acres of cotton by myself every week with a double shield and mule because I didn't want to chop (cotton)," he said. "I drove trucks. I hauled cotton. I plowed mules until they were no longer used. Then I drove tractors until I fooled around and got me a youngster to be the driver, then they made a supervisor out of me."
When he wasn't in the fields, Moore began picking up other skills from craftsmen on the plantation.
"I was in the shop where I learned a lot of things, including mechanical work. Then I got tired of that and began hanging around the carpenters," he said. 
And while the physical labor was plentiful, school was limited.
"I received Basic Adult Education while I was working at the plantation. When I became old enough they made me graduate, then they put me in trade school where I picked up welding," he said.
Moore's father was killed in 1954, the same year he married his wife, Ossie Griffin, at the age of 19. During that time Moore continued to work on a plantation, performing farm work until 1967 when he began working at KBH Corporation as a welder.
Then Moore put in an application at the "Wonder Bread" company and he was hired on working in sanitation before quickly being promoted. He also drove a school bus in the Clarksdale area for several years.
When the plant closed in Clarksdale, Moore transferred to the Memphis, working a total of 26 years, three months and 19 days before retiring at the age of 61.
However, it was long before retirement that Moore began his commitment to exercise. Ironically, it was a ruptured disc in his back that prompted Moore to begin walking in 1982.
"I was on a plantation when it happened. …I picked up more than I had business and couldn't put it down," he said.
That incident came back to haunt him later in life after he accidentally slipped in the bathtub.
Moore said he went to see a chiropractor who instructed him to perform some home remedies, but one day, while his wife was sleep, he felt the urge to get out of bed and walk. He walked, and walked right up to the chiropractor's office several miles from his home.
"The doctor said 'Mr. Moore, what have you been doing to yourself?' and I told him 'I've been walking' and he said 'that's the best thing you could've done' and I've been walking ever since," he said.
Moore shares that exercising is one of his "secrets" to the fountain of youth , along with obedience, eating right, and giving back.
"I walk 5 miles everyday except Sunday. I think that's part of the reason I can get around so good now at my age because before the day is gone Sunday I can feel the difference," he said.
"Now obedience came with age … I don't do everything I'm suppose to do right, but I try my best to follow directions like the Word instructs us to. We grow in grace everyday of our life we're getting closer and closer provided that we don't stumble and fall. And if you do stumble and fall, don't lay there and wobble—get up."
He then turned his focus on the importance of helping others.
"I believe in helping those less fortunate than I am," Moore said. "I believe within myself that when the Lord blessed me, he didn't bless me just for Quincy, he blessed me to help somebody else."
He hopes his story will inspire others to face their challenges head on—whether it's getting into shape, or going back to school.
"If I can do it—you can do it," he said. "There's no such thing as what you can't do—I've never believed in that. I believe anything anybody can do, I can do it."