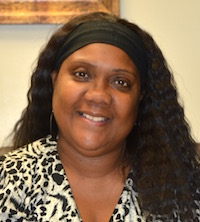 For Renee' Sanford, counseling is not just a job. In fact, all signs indicate it is the result of a higher calling.
"I didn't always think that counseling was my thing. Sometimes, you just have to try several things until you finally stumble upon the one that works for you," said Sanford who serves as Coahoma Community College's coordinator of counseling services for the Division of Enrollment and Student Services.
Even when she's not serving in her official capacity at CCC, Sanford is known for lending an ear and offering sound advice to family, friends and the community.
"I would always help people—even before I became a counselor, so when I did it just felt natural … like a God-given gift," she said.
Growing up as a military kid in Brooklyn, New York, Sanford said it became apparent early on that she had a natural gift for talking and listening.
"I think my interest in counseling grew from the fact that I'm a good listener. Also, I love to talk and meeting people," she said.
After moving back to Mississippi to help care for her great grandparents, Sanford attended Jackson State University where she received a bachelor's degree in Criminal Justice and a master's degree in Counseling.
She worked as a Pre-Release Counselor for the Mississippi Department of Corrections, then as a Social Worker and later Area Social Work Supervisor, overseeing four counties, for the Mississippi Department of Human Services before joining CCC in 1999.
At CCC, Sanford first served as the Vo-Tech Counselor before transferring to the Delta Workforce Investment Area (DWIA) program and GED test administrator. She then joined the Division of Enrollment and Student Services in her current position.
Sanford's duties include keeping the campus educated on important topics such as depression and suicide prevention as well as providing guidance to students who are summoned to judicial hearings.
"When I counsel with students after a hearing, I try to help them determine how they arrived at this point, then work with the student to help find ways to keep them in school, out of trouble and into the graduation line."
She has found that most of the time, students simply need someone to talk to.
"For the most part, counseling is just a matter of just being a good listener. Almost all the time, you basically solve your own issues about what's going on," she said.
She said is grateful that her career is one that reaps such great benefits.
"It's a joy to me because my mother once explained to me that you can't save the world or everybody. However, if I can just save one life at a time or put a smile on one student's face today, then I feel accomplished," she said.
Sanford future plans include furthering her education as well as continuing to expand her knowledge of her field in effort to build upon the counseling services available on CCC's campus.