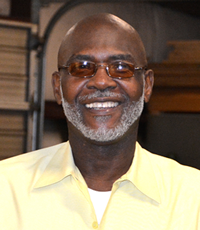 Success apparently begets success when it comes to Robert Burnley's Welding class.
The well-known welding veteran has been in the business for 48 years while passing his skills on to students for 45 of those. His "welding boot camp" has earned a reputation throughout the state for producing welders who are highly skilled and qualified.
"A welder is an artist. It's exciting and it makes me feel real good to pass along my craft," said Burnley. "I've always dreamed that I would be a millionaire, and I am because I'm passing on something that God has blessed me with and I love doing it."
A native of Utica, MS, Burnley is the oldest of seven siblings. He stumbled upon welding as a young man after searching for something "different."
"I grew up on a farm with my granddad and my father, who was a Baptist preacher," said Burnley. "The jobs weren't that great down there. I always wanted to do something different from my father and my uncles; they were contractors and farmers, but I didn't want to do any of that."
That's when Burnley began to seriously consider welding.
"When I graduated from high school and my dad asked me what I was going to do, and after some thought I told him 'welding'. He asked why because there weren't any welding industries in the area," he said. "But I had my eyes on all the metal I saw running up and down the highway, so I knew there had to be somebody welding somewhere. My dad didn't mind— as long as I just got a job."
So, Burnley enrolled in Utica Junior College where he received an associate 's degree with honors is Welding. But even before he completed his degree, was hired on the spot by the U.S. Navy.
There, he started off in an apprenticeship program that lasted an average of 90 days to 6 months — Burnley completed it in just one month and eleven months later he became a first-class welder. Later, at the age of 26, Burnley began working at the then Coahoma Junior College as a full-time Welding Instructor, where he remained for 15 years.
A 1978 letter of recommendation from an Inglis Shipbuilding Employment Specialist reads that Burnley's welding and teaching skills "exceed any instructor in an welding school in the state of Mississippi, Alabama, Louisiana, Florida, Ohio, and other states visited."
The author also noted that Burnley had "never sent a welder who was unable to pass the Navy-X-Ray certification requirement."
He's had five students to become instructors—the latest is CCC's current Welding Instructor Henry Striplin.
Burnley then switched jobs and was employed with Texas Gas for 25 years. Even then, he continued to teach night classes at CCC.
Today, a 67-year-old Burnley serves as a certified welding instructor for CCC's Division of Workforce Development. The short-term program requires a high school diploma or GED and Career Readiness Certificate. Classes meet for three hours, twice a week, for 6 months. Upon completion, students receive a certificate in the areas they've completed. Burnley also has the credentials to test, inspect and certify welders.
"Mr. Burnley has established a core relationship with local industries such as Saf-T-Cart, KBH, Metso, Standard Industries. And in the last two years, 21 of his welding students were hired at local welding manufactures," said CCC Industrial Training Coordinator Kaye Bennett. "We're proud to have Mr. Burnley on board here at the Workforce Development Center. …His work and commitment speaks for itself."
Although he could certainly sit back and rest on his laurels, Burnley has no plans to do so anytime soon.
"I try very hard to place every student that comes to me. They each come from different situations and problems, but most of them come to me because they need a job," he said.  I haven't retired yet because I love what I do. I love to teach people and see them get a good job."