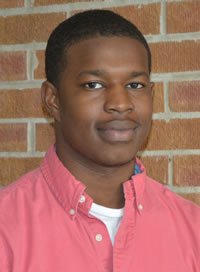 Robert Ray once had to foot the bill for tuition and other college expenses out of his own pocket.
Today he's not only attending school for free, but is also actually receiving money to complete his college degree at Coahoma Community College.
"It feels great, and it's a huge burden off my shoulders not having to pay for anything out of pocket anymore," said the sophomore Business major.
A native of Augusta, GA, Ray said he initially attended college in Georgia, but the school was so expensive that he was forced to work to help cover tuition.
"I had a hard time saving up and that caused me to have to sit out of school twice," said Ray who found juggling school and work nearly impossible.
During his second hiatus from school, Ray, who had been out of school nearly a year, was approached about enrolling at CCC by his aunt, CCC's Director of Educational Outreach Letha Richards.
Ray said he already had some knowledge of CCC from attending summer camp there as a kid. Plus, after considering the affordability of CCC, he couldn't say no.
Ray said it's the best decision he's ever made.
"I'm so appreciative of my aunt … When I look back on what my life could've been, it's scary. I probably would've ended up not going back to school at all. I made a big change for the better here at Coahoma," he said. "Since I no longer have to worry about money, I've been able to be a lot more active and focused in school."
One of his most memorable moments happened last year when he received a $1,000 scholarship for Business majors and was selected as a "Who's Who" recipient.
"I'd never received an award from school before, so that was like an 'Oh my God, I have to tell everybody' moment for me," he chuckled.
After CCC, Ray plans to attend the University of Southern Mississippi to receive his bachelor's degree in Business.
He then hopes to own his own business and expand his father's barbeque restaurant across the country.
He encourages other students to find their passion, follow their dreams and choose their college wisely.
"Do what you want to do. Don't do it because your mom or dad wants you to do it—follow your passion," he said. "Live your life because at the end of the day you'll have to pay your own debt. Learn from my mistakes and enroll at CCC first so you won't have to deal with the stress of paying for school."